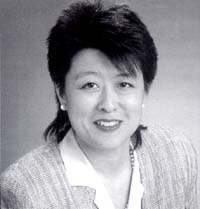 Building Bridges Across Communities
HELEN ZIA
WEDNESDAY, APRIL 20, 2005
Helen Zia is an award-winning journalist and scholar who has covered Asian American communities and social and political movements for more than twenty years. A second generation Chinese American, Zia advocates against racism and hate crimes that affect the Asian American community. She was a leading voice in organizing Asian Americans' protests after Vincent Chin, a Chinese American, was killed in 1982 after a racially motivated bar fight. Her work on the landmark civil rights case is documented in the Academy Award nominated film, "Who Killed Vincent Chin?" (1989)

Zia's activism has included fighting hate crimes, organizing for battered Asian American women, and speaking out against ethno-rape, or rape that is motivated by racial bias. In 1997 she testified before the U.S. Commission on Civil Rights on the impact of the campaign finance hearings on Asian Americans, and helped author a complaint to the Commission against Congress, the Democratic and Republican National Committees, and the news media for racially discriminatory treatment of Asian Americans.

Her acclaimed book Asian-American Dreams: The Emergence of an American People (2000) interweaves the remarkable history of a people with her own unique journey as a pioneer activist and writer. The book is now in its fifth edition. Zia is also a contributing editor to Ms. magazine, where she was formerly executive editor. Her articles, essays, and reviews have appeared in numerous newspapers, magazines and anthologies. Zia is an Expert Fellow with University of Southern California's Justice and Journalism program of the Annenberg School of Journalism.

Helen Zia's presentation is sponsored by the Athenaeum and the Dean of Students with funding from the Irvine Foundation.