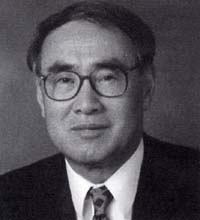 Korea, Asia, and the United States
HONG-KOO LEE
Wednesday, April 13, 2005
Has the current crisis around the six-party talk in Beijing on the North Korean nuclear issue marked a turning point in the history of Northeast Asia and Korea? Not quite so. We might say, however, the talk reflected a real possibility of change for North Korea, Northeast Asia and indeed the global security relations. In many ways, the current situation in Korea is a product of the regional history, geopolitics of Northeast Asia, and the tremendous change in technology and market. In order to properly diagnose the current problems facing Korea and Asia, we have to develop a broad perspective incorporating all those factors that jointly produce a special regional dynamics. It certainly is a gigantic intellectual challenge for all parties concerned, especially the United States. The Honorable Hong-koo Lee will address these questions in his speech.

Dr. Lee was the Prime Minister of South Korea (1994–1995). Before that, he served twice as the deputy prime minister for unification dealing with the relation between the divided two Korean states. He was also a member of the Korean National Assembly and the chairman of the then ruling New Korea Party.

Dr. Lee was educated at Seoul National University, Emory University, and Yale University where he received a Ph.D. in political science. He was on the faculty of Seoul National University for twenty years (1968–1988). Professor Lee was the president of the Korean Political Science Association and a member of the executive committee of the International Political Science Association. He spent a year each as a fellow at Woodrow Wilson International Center (1973) and Harvard Law School (1974). His publications include a five volume collected works.

Dr. Lee was the South Korean ambassador to the United Kingdom (1991–1993) and most recently to the United States (1998–2000). He was a member of the Commission on Global Governance (1991–1994) which proposed restructuring of the United Nations. As the Chairman of the World Cup Bidding Committee, he successfully won the right to co-host the 2002 World Cup in Korea and Japan.

The Keck Center for International and Strategic Studies is pleased to host The Honorable Hong-koo Lee's visit to CMC as a Freeman Foundation Visiting Professor.