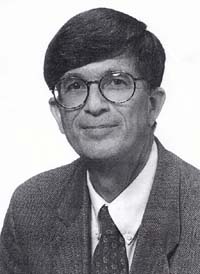 Dinner for the Class of 2009
Cloning, Cloning
DAVID SADAVA
WEDNESDAY, SEPTEMBER 7, 2005
The first Athenaeum dinner/lecture of each year is reserved exclusively for members of the freshman class. Traditionally, a member of the Claremont McKenna College faculty is invited to deliver this introductory lecture. First-year students this fall will have the good fortune to meet Dr. David Sadava, Pritzker Family Foundation Professor of Biology at CMC and Pitzer College, and an admired and prolific member of the joint science faculty. In his Athenaeum lecture, Professor Sadava will describe some of the science behind cloning, and its potential.

Long a subject for speculation and science fiction, cloning animals became science fact a few years ago, when Dolly the sheep was born. Shortly after announcing her birth, Ian Wilmut, who led the team of scientists who devised the procedure, spoke at the Athenaeum. It's time for an update. Since then, clones have been made of many animals, including mice, rabbits, cats, cows, dogs, horses and goats. It's far from easy, but it's possible. And the prospect of cloning people is not far off, unless it has already happened. Why do it? Is cloning animals and people just a scientific stunt or are there actual uses for it? Looming on the horizon is therapeutic cloning, which combines it with stem cell technology, and opens up the prospect of curing damaged hearts and even brains with a patient's own tissues. While other societies have embraced these technologies, many Americans - politicians, religious leaders, and ordinary citizens - are uneasy, especially when it comes to involving humans.

Born in Canada, Sadava received his undergraduate education at Carleton University in Ottawa, and his Ph.D. in cell biology from the University of California, San Diego. Following postdoctoral work at Scripps Institution of Oceanography, he joined the joint science faculty in 1972. His current research is on cancer chemotherapy on human small-cell lung cancer. The author of over 50 peer-reviewed research articles, he is a co-author of Life: The Science of Biology (1997), a leading text used at many of America's major universities.

Everyone at the Marian Miner Cook Athenaeum looks forward to welcoming members of the class of 2009 on this special occasion. Freshmen are automatically signed up for the dinner. If you are unable to attend please email rbever@claremontmckenna.edu or call ext. 18244 to cancel.