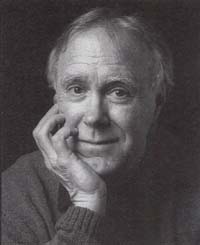 An Evening with the Poet
ROBERT HASS
WEDNESDAY, SEPTEMBER 21, 2005
Robert Hass is a poet of great eloquence, clarity, and force, whose work is rooted in the landscapes of his native Northern California. He also changed what it means to be Poet Laureate of the United States (1995-1997). Hass made the Office of Poetry and Literature a position from which to launch action. Battling American illiteracy, he crisscrossed the country speaking at Rotary Club meetings and other community gatherings, raising money to organize conferences such as "Watershed," which brought together noted novelists, poets, and storytellers to talk about writing, nature, and community. For Hass, everything is connected. His deep commitment to environmental issues led him to found River of Words (ROW), an organization that promotes environmental and arts education in affiliation with the Library of Congress Center for the Book.

Robert Hass has published many books of poetry including Field Guide (1973), Praise (1980), Human Wishes (1990) and Sun under Wood (1996), as well as a book of essays on poetry, Twentieth Century Pleasures: Prose on Poetry (1984). Hass translated many of the works of Nobel Prize-winning Polish poet, Czeslaw Milosz, and was guest editor of the 2001 edition of Best American Poetry.

Awarded the MacArthur "Genius" Fellowship, twice the National Book Critics' Circle Award (in 1984 and 1997), and the Yale Series of Younger Poets in 1973, Robert Hass is a professor of English at U.C. Berkeley.