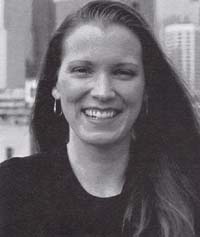 Families Like Mine: An Adult Daughter of Gay Parents Speaks Out
ABIGAIL GARNER
TUESDAY, SEPTEMBER 13, 2005
Based on eight years of advocacy and research, Abigail Garner debunks the anti-gay myth that children of gay parents grow up damaged and confused in her new book Families Like Mine: Children of Gay Parents Tell It Like It Is (2004). At the same time, Garner's book refutes the popular pro-gay sentiment that these children turn out "just like everyone else." Using a rich blend journalism and memoir, Garner offers empathetic yet unapologetic opinions about the gifts and challenges of being raised in families that are often labeled "controversial."

Abigail Garner is writer, speaker and advocate for the estimated ten million children growing up with parents who are lesbian, gay, bisexual, or transgender (LGBT). She speaks from her own experience of having a gay dad who came out to her when she was five years old. Bringing voice to a population of children that is often overlooked, she has been featured on CNN, ABC World News Tonight and National Public Radio.

Garner was raised in Minneapolis in two households by three parents: her mother, her father, and her father's partner of 23 years. She returned to her hometown after earning a bachelor's degree in anthropology from Wellesley College. In 1992 she received the Twin Cities International Citizen Award for her commitment to non-violence at the height of the nuclear arms race. She was also awarded the Rees Peace Award in 1990 by the National Council of Jewish Women.

Ms. Garner's presentation is co-sponsored by the Dean of Students at CMC and the Athenaeum.