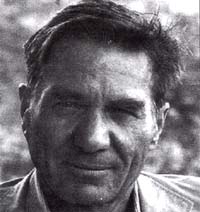 Reading and Commentary
GALWAY KINNELL
TUESDAY, OCTOBER 11, 2005
Galway Kinnell writes about the terror and wonder of human beings. Terror, because we know we must die; wonder, because we are so capable of love. His poems leave conventional notions of religious authority and personality behind. "If you could keep going deeper and deeper," Kinnell has said, "you'd finally not be a person ... you'd he a blade of grass or ultimately perhaps a stone. And if a stone could read poetry would speak for it."

His Selected Poems (1982) was awarded the Pulitzer Prize for Poetry and the National Book Award. Subsequent volumes — The Past (1985), When One Has Lived a Long Time Alone (1990), Imperfect Thirst (1996), and A New Selected Poems (2000) — have continued to win praise for their intense commitment to life in full consciousness of death.

Born in Providence, Rhode Island, Galway Kinnell attended Princeton University, where he roomed with the acclaimed poet, W.S. Merwin. Twice a Fulbright Scholar, he has taught in universities from France to Iran. In the 1960s, Kinnell helped register Southern black voters for the Congress of Racial Equality (CORE). This experience, along with his participation in Vietnam antiwar demonstrations and readings, deepened his "Whitmanian" vision of the United States.

Awarded fellowships from the MacArthur and Guggenheim Foundations and the Medal of Merit of the National Institute of Arts and Letters, Galway Kinnell is currently the Erich Maria Remarque Professor of Creative Writing at New York University and a Chancellor of the Academy of American Poets.