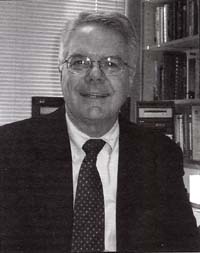 U.S.-China Relations in the Context of Growing PRC Power
DAVID LAMPTON
THURSDAY, OCTOBER 13, 2005
China is getting stronger. The United States is determined to maintain its preeminence. Can two such powers develop productive relations and address critical global issues? The aftermath of Chinese President Hu Jintao's visit to the United States, and President Bush's anticipated visit to the PRC in the near future, make this an important time to assess America's ties with China.

Among the issues littering the U.S.-China agenda are: How to deal with: proliferation threats in North Korea and Iran; stability in the global economic and trade system; how to provide regional security in Asia; how to deal with global energy and environmental issues; and, prospects for stability and progress in China itself.

Dr. Lampton, born in Glendale, California, author of Same Bed, Different Dreams: Managing U.S.-China Relations, 1989—2000 (2002) and editor of The Making of Chinese Foreign and Security Policy in the Era of Reform, 1978-2000 (2001), received his Ph.D., MA, and undergraduate degrees from Stanford University. Dean of Faculty and director of China Studies at the Johns Hopkins School of Advanced International Studies (SAIS) and director of China Studies at The Nixon Center in Washington, DC, Dr. Lampton received an honorary doctorate from the Institute of Far Eastern Studies of the Russian Academy of Sciences.

Author of many books and scholarly and popular articles dealing with contemporary China and U.S.-China relations, his most recent article, "Paradigm Lost: The Demise of Weak China, appeared in the Fall 2005 issue of The National Interest. He consults with various foundations, corporations, government agencies, and the Aspen Institute Congressional Program.

David Lampton's lecture is sponsored by the Keck Center for International and Strategic Studies.