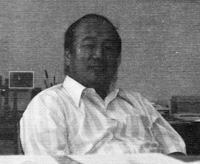 Trust in U.S.-North Korea Relations
DAE-SOOK SUH
Tuesday, September 27, 2005
LUNCH 11:45 a.m., LECTURE. 12:15 p.m.
Trust is perhaps, one of the most inappropriate words to describe U.S.-North Korea relations. The idea of trust presupposes a democratic political system, and democracy encourages active participation of the people in civil societies. The North Korean political system is one of the most tyrannous and undemocratic systems where operation of the civil societies is non-existent. In contrast, the U.S. is a high-trust society, but the idea of trust has never entered into the minds of negotiators in the U.S.-North Korea relations. U.S. relations with North Korea have been firmly rooted in American national interest. The mutual distrust rather than the trust characterizes the relationship.

Sources of U.S. distrust of North Korea are clear, and they are widely known. North Korea was the "shock troop" of the Communist camp during the cold-war years. It manufactures weapons of mass destruction while children are starving to death. North Korean violations of basic human rights have reached the level that the international community can no longer tolerate the abuse. What are the reasons for North Korean distrust of the U.S.? It is important to examine North Korean mistrust of the U.S. in order to establish trust and normalize U.S.-North Korea relations.

Dae-Sook Suh is Korea Foundation Professor of Policy Studies at the University of Hawaii at Manoa. He received his graduate training in Political Science at Columbia University, receiving Ph.D. in 1964. He taught at the University of Houston and the University of Texas before moving to the University of Hawaii to establish and develop the programs for the Center for Korean Studies. He served as its first Director from 1972 to 1995. His publications include The Korean Communist Movement, 1918-1948 (1967), Kim II Sung: The North Korean Leader (1995), and North Korea After Kim Il Sung (1998). He also taught at Seoul National University and Yonsei University in Korea. He was a Visiting Professor at Keio University in Japan, Visiting Scholar at the Woodrow Wilson International Center for Scholars in Washington, D.C., and at the Keck Center for International and Strategic Studies at Claremont McKenna College. He is currently lecturing at UCLA.

Dae-Sook Suh's lecture is sponsored by the Keck Center for International and Strategic Studies.