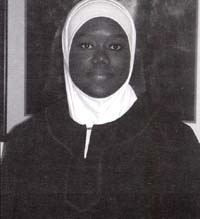 The Afro-Latin Diaspora: From Opacity to Transparency
JAMEELAII XOCHITL MEDINA `99
WEDNESDAY, SEPTEMBER 28, 2005
Jameelah Xochitl Medina first began her research into the Afro-Latin Diaspora in 1997 when she traveled to the Caribbean Coast of Panama with a CMC International Research Grant. Her recently published book, The Afro-Latin Diaspora: Awakening Ancestral Memory, Avoiding Cultural Amnesia (2004), discusses the concept of African resistance in the Americas and highlights the heroism and contributions of these forgotten people of Latin America. The book also discuses what it means to be an Afro-Latino born in the Diaspora.

Medina grew up in La Puente and Bloomington, CA and became Bloomington High School's youngest graduate at age fifteen. As a member of the National Spanish Honor Society (Sigma Delta Pi), she graduated (cum laude) from CMC in 1999 with a B.A. in Spanish. She studied abroad at the University of Barcelona and earned a Master of Education degree at Claremont Graduate University. By the age of 20, she was teaching Spanish at the high school level.

Now a resident of Rialto, CA, Medina is employed as a trainer and training coordinator for State Compensation Insurance Fund of California. Last year she was awarded the "State Fund's Achievement Award for Extraordinary Work and Achievement." She also owns the Medina Academy of Overachievers, a private tutoring program in select subjects for all ages.

Jameelah Medina's return to CMC is jointly sponsored by the Chicano/Latino Student Affairs Center and the Marian Miner Cook Athenaeum in celebration of Hispanic Heritage Month.