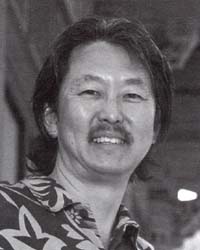 Living with Spirits, Writing as Activism
GARY PAK
THURSDAY, SEPTEMBER 29, 2005
Award-winning novelist, Gary Pak comments: "Being born and raised in Hawai'i, it is hard not to be affected by the breathing of the land and sea. I grew up in a household that nurtured me on Korean/Asian, Hawaiian and American values all at the same time." These values and themes are evident in his lyrical and moving novels and collections of short stories that explore the intersections of these various cultures in the islands. Critics have noted Pak's ear for the linguistic riches of the islands reflected in his many and varied characters. In his writings. Pak also conveys the histories of the many peoples who inhabit Hawai'i and in the process, paints portraits of local and everyday life.

Gary Pak is Director of the Creative Writing Program and associate professor of English at the University of Hawai'i at Manoa. He is the author and editor of five books, including Children of a Fireland (2004) and The Language of the Geckos and Other Stories (2005). Professor Pak was also the recipient of a fellowship as Fulbright Scholar to Korea. He is currently at work on a book of essays on contemporary Korean culture and a video oral history of second generation Korean Americans in Hawaii.

Gary Pak's talk at the Athenaeum and his visit to Claremont McKenna College is jointly sponsored by the Athenaeum and the Keck Center for International and Strategic Studies.