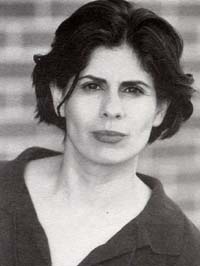 Fear and Learning at Hoover Elementary
LAURA SIMON`85
WEDNESDAY, OCTOBER 5, 2005
FILM SCREENING BEGINS AT 6:30 p.m.
In 1994, the State of California passed Proposition 187, a controversial ballot measure that eliminated health and educational benefits for undocumented aliens living in the state. At the time, Laura Simon'85 taught fourth grade at an elementary school in Pico Union — a district which has been described as "the Ellis Island of Los Angeles." Composed of students who spoke 32 different languages and were 90 percent from Mexico or Central America, Hoover Elementary would feel a strong impact from Prop 187. In Fear and Learning at Hoover Elementary (1997), Simon documents the deeply divided opinions of teachers, administrators, and students on the issues of bilingual studies, the right to education, and the legal and political status of illegal immigrants.

Originally broadcast on the PBS series "Point of View," Fear and Learning at Hoover Elementary won the "Freedom of Expression Award" at the 1997 Sundance Film Festival and the prestigious DuPont-Columbia University Award. The Rockefeller Foundation named the documentary as one of the "ten most important films on American race relations."

In addition to Fear and Learning at Hoover Elementary, Laura Simon has written and produced the 20th Century Fox film Chasing Papi (2003), and written the Vh 1 /MTV film Thirty Days Until I'm Famous (2004) — a response to her experiences in Hollywood as a Latino writer. She has been invited as an honored guest to the White House and to the Annual Hispanic Caucus Congressional Dinner.

Simon was born in Mexico to parents from Sinaloa and Sonora, and lived in Mexico until the age of six. When she was ten, her parents opened a popsicle sales business in El Mercado in East L.A., and Simon helped support her family by selling popsicles on the street corners of her neighborhood. She eventually learned to speak English fluently and went on to become Valedictorian at her high school. She then won a scholarship to Claremont McKenna College where she became the first member of her family to attend college. There she double majored in economics and philosophy. Her academic achievement continued, and she was class president and commencement speaker upon her graduation.