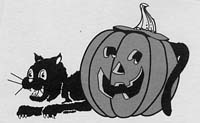 Halloween Magic
GEORGE SWANER '06
MONDAY, OCTOBER 31, 2005
Continuing a tradition in celebrating Halloween, the Athenaeum will host a special dinner with entertainment provided by magician George Swaner.

A native of La Canada, CA, George Swaner was first introduced to magic through his dad. He began learning and performing magic at the young age of eight.

Now in his fourth year wowing the CMC community, George performs close up style magic with coins and playing cards. He is a member of and performer at the Magic Castle, an exclusive club in Hollywood and home to the Academy of Magical Arts. He has also performed for organizations such as the Rotary Club and Habitat for Humanity.

At CMC, George is a psychology and French dual major. He also plays on the CMS men's soccer team.

After George's show at the Athenaeum, the Halloween festivities will continue with palm and tarot card readings by Psychic Linda in Frazee Game Room.