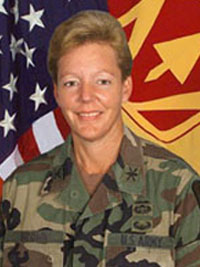 Training Leaders for Today's Military
HEIDI BROWN
MONDAY, NOVEMBER 7, 2005
LUNCH 11:45 a.m., LECTURE 12:15 p.m.
Colonel Heidi V. Brown took command of the 31st Air Defense Artillery Brigade July 12 at Fort Bliss, becoming the first woman to take the reins of an ADA brigade. Brown was also the first woman from El Paso, Texas to graduate from West Point and the first woman to command a Patriot air defense battalion. Col. Brown said she never set out to pioneer the way for women. In fact, she said she looks forward to the time when she can say that being a female combat-arms commander is no longer a novelty. "Someday, gender will be a non-issue in these positions."

Brown's military career began with completion of the Air Defense Officer Basic Course and the HAWK Missile Course where she was the distinguished graduate. Col. Brown holds a bachelors degree from the U.S. Military Academy, a master's degree in student personnel services from the University of South Carolina, and a master's in strategic studies from the Army War College. Her military education includes Airborne School, Air Assault School, the Air Defense Artillery Officer Basic and Advanced Courses, the Combined Arms Services Staff School, the Army Command and General Staff College and the Armed Forces Staff College.

Over the last 24 years, Colonel Brown has performed in command and staff positions at all levels in Army units throughout the world. She commanded an Air Defense Artillery battalion and most recently commanded an Air Defense Artillery brigade in combat operations in two theaters of operation — Afghanistan and Iraq.

Colonel Brown's awards include the Legion of Merit (2 awards), Bronze Star Medal, Defense Meritorious Service Medal, and the Meritorious Service Medal (6 awards). Her visit to the Athenaeum is hosted by the Claremont McKenna College Army ROTC program.