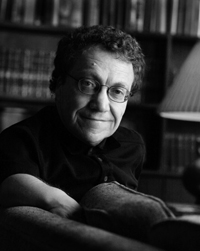 Paranoia in the Modern World
JOHN FARRELL
THURSDAY, NOVEMBER 17, 2005
For Professor John Farrell, the study of paranoia in the human mind reveals one of the fundamental transformations of Western intellectual thought. Through a unique and original fusion of literary interpretation, psychoanalysis, and historical research, Professor Farrell views the development of paranoia through modern times as central to fundamental questions of individual control and personal freedom that have occupied philosophical thinkers for hundreds of years. His latest work, Paranoia and Modernity: Cervantes to Rousseau (2005), traces this evolution through the writings of many of western civilization's greatest thinkers, such as Luther, Hobbes, and Rousseau, in order to understand the role of paranoia in the growth of western intellectualism from the theological debates of the late Middle Ages to the humanistic debates of today.

In addition to Paranoia and Modernity, Professor Farrell has authored or contributed to several other works relating to paranoia, suspicion, and their roles in psychoanalytic and literary thought. He is the author of Freud's Paranoid Quest: Psychoanalysis and Modern Suspicion (1996), as well as the author of numerous scholarly articles and reviews, including Moral Deliberation and Modern Literature, published in 1995. He was also the recipient of an NEH Fellowship for the academic year 2002-2003.

Professor Farrell received his B.A. from Brown University and both M.A. and Ph.D. in English and American Literature from Harvard University. Prior to joining the faculty at Claremont McKenna, he taught at Harvard and contributed to The Harvard Review.