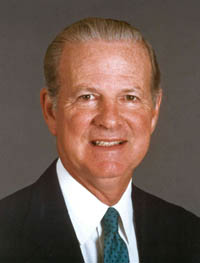 A Conversation about World Events
JAMES A. BAKER III
TUESDAY, NOVEMBER 8, 2005
James A. Baker III, has served in senior government positions under three United States Presidents. His record of distinguished public service began in 1975 as Under Secretary of Commerce to President Gerald Ford and concluded with his service as White House Chief of Staff and Senior Counselor to former President Bush (1992 to 1993). Baker served as Secretary of the Treasury under President Ronald Reagan (1985 to 1988) and as Secretary of State under former President George Bush (1989 to 1992) during the years when the United States confronted the unprecedented challenges and opportunities of the post Cold War era.

Currently Mr. Baker is a senior partner in the law firm of Baker Botts and Senior Counselor to The Carlyle Group. From 1997 to 2004, Baker served as the Personal Envoy of United Nations Secretary-General Kofi Annan, where he worked to find a political solution to the conflict over Western Sahara. In 2003, Mr. Baker was appointed Special Presidential Envoy for President George W. Bush on the issue of Iraqi debt.

Baker's numerous awards for distinguished public service include: the Presidential Medal of Freedom, Princeton University's Woodrow Wilson Award, Harvard University's John F. Kennedy School of Government Award, the Hans J. Morgenthau Award, and the Department of State's Distinguished Service Award. In 1995, Baker published The Politics of Diplomacy, his reflections on revolution, war, and peace.

James Baker graduated from Princeton University in 1952. After two years of active duty as a Lieutenant in the United States Marine Corps, he entered the University of Texas School of Law at Austin. He received his J.D. with honors in 1957, and practiced law with the Houston firm of Andrews and Kurth from 1957 to 1975.

The Pacesetters Fellowship Program is the culmination of the hard work and dedication of alumni from the classes of 1948, 1949, and 1950 — the Pacesetters. James Baker is the sixth Pacesetters Fellow.