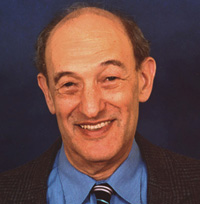 Needed: a New U.S.-Asian Policy to Respond to the Rise of China
EZRA VOGEL
TUESDAY, NOVEMBER 15, 2005
Asia is changing rapidly as China grows. Already Japan and South Korea carry on more trade with China than with the United States. The United States needs a new overall policy to respond to the challenge. Professor Ezra F. Vogel will discuss this important and timely topic.

Dr. Vogel has been Professor at Harvard University since 1967 and is currently Henry Ford II Professor of the Social Sciences Emeritus. He graduated from Ohio Wesleyan University in 1950 and received his Ph.D. from Harvard in 1958. He succeeded Professor John Fairbank to become the second director of Harvard's East Asian Research Center in 1972 and chairman of the Council for East Asian Studies in 1977. He was director of the Program on U.S.-Japan Relations at the Center for International Affairs. He also served as the National Intelligence Officer for East Asia at the National Intelligence Council in Washington (1993-1995). And he was co-director of the Asia Foundation Task Force on East Asian Policy Recommendations for the New Administration in 2001.

Vogel has written numerous classic studies on East Asia, including Japan's New Middle Class (1963); Canton Under Commnism (1969); Japan as Number One: Lessons for America (1979); Is Japan Still Number One? (2000); One Step Ahead in China: Guangdong Under Reform (1989); and The Four Little Dragons: The Spread of Industrialization in East Asia (1991).

Professor Vogel's lecture is sponsored by the Keck Center for International and Strategic Studies.