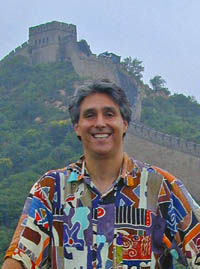 An Entrepreneurial Model for Conserving the Giant Pandas: How a CMC Alumnus and the Roberts Environmental Center are Making a Difference
MARC BRODY `83
WEDNESDAY, NOVEMBER 16, 2005
Dinner in Parents Dining Room
Marc Brody was born and raised in Los Angeles and graduated from CMC in 1983. In 1993, ten years after traveling in eastern China for his father's import-export company, Marc founded the U.S.-China Environmental Fund (USCEF), the first U.S. environmental organization to open a registered office in China. Since then, Marc has maintained an office in Beijing and travels to China approximately five times a year.

Since its founding, USCEF has worked to integrate environmental planning with economic development through unique model projects that strengthen the stewardship and conservation of China's natural and cultural resources. USCEF coordinates multi-disciplinary teams of architects and environmental professionals that transfer and adapt the best U.S. resource management practices.

When characterizing his work in China, Brody is quick to explain that USCEF's main programs have focused on two of China's most important icons: The Great Wall and the Giant Panda. At The Great Wall at Badaling, China's most famous section of The Great Wall just northwest of Beijing, USCEF designed the Badaling International Friendship Forest, a model interpretive park that balances conservation with tourism development. USCEF's work for the Giant Panda began in late 2000 at the Wolong Nature Reserve, China's largest protected area for the Giant Panda. From 2003 to 2004, USCEF redesigned and supervised the renovation of Wolong's panda breeding center, an internationally renowned facility with the world's largest captive Giant Panda population.

Using an entrepreneurial approach to conservation, Marc is currently developing the Panda Mountain ecotourism destination and the Wolong Panda and Conservation Institute to be a unique and integrated venture that combines a conservation station, experiential learning and training center, and ecolodge with supporting ecotours, restaurants, a tea house, and related retail operations. Panda Mountain's construction timeline and proposed opening dates will coincide with China's hosting the 2008 Summer Olympics in Beijing.

Seating for dinner is limited and on a first come basis.