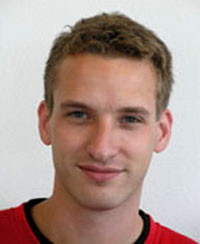 The Interpersonal Effects of Emotions in Organizations: The Emotions as a Social Information (EASI) Model
GERBEN VAN KLEEF
MONDAY, JANUARY 30, 2006
LUNCH 11:45 a.m., LECTURE 12:15 p.m.
Gerben van Kleef is a young leadership scholar at the University of Amsterdam. Having won the 2005 bi-annual Best Dissertation Award of the International Association for Conflict Management for his work on the role of emotions in social conflict, he is now an assistant professor in the department of Social Psychology.

Having published chapters such as, "I Laughed, I Cried, I Settled: The Role of Emotions in Negotiation"(2004) his research revolves around the interpersonal effects of emotions and motivational processes in intergroup relations.

Dr. van Kleef's visit to CMC is sponsored by the Kravis Leadership Institute as part of a series demonstrating what leadership researchers do and providing models for research and theses.