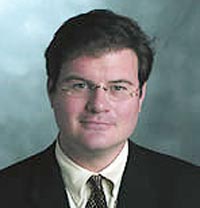 Fascism: A Work In Progress
JONAH GOLDBERG
WEDNESDAY, FEBRUARY 15, 2006
Fascism. Few words are more widely used and so poorly understood. As early as 1946, George Orwell proclaimed that "the word Fascism has now no meaning except in so far as it signifies 'something not desirable.'" Today's usage of the word makes Orwell's definition look like a paragon of precision. Jonah Goldberg peels back the history of fascism and its uses and abuses in the United States, offering a revisionist history of the word and discusses the perplexing popularity of the ideas on which it is based.
Jonah Goldberg is editor-at-large of National Review Online for which he writes "The Goldberg File" and a contributing editor to National Review. He also writes a regular column for The American Enterprise magazine, and his nationally syndicated editorial column, distributed by Tribune Media Services, appears in such newspapers as the Los Angeles Times, the San Francisco Chronicle, and the Washington Times.
Mr. Goldberg is a CNN contributor and regular panelist on Late Edition with Wolf Blitzer, and an occasional guest-host on Crossfire. A former television producer, he has written and produced two PBS documentaries. An award-winning journalist, his writing has appeared in The New Yorker, Worth, The Wall Street Journal, Commentary, The Public Interest, The Wilson Quarterly, The Weekly Standard, New York Post, Reason, The Women's Quarterly, The New Criterion, Food and Wine, The Street.com, and Slate.

Jonah Goldberg's appearance at the Athenaeum is sponsored by the Henry Salvatori Center for the Study of Individual Freedom in the Modern World.