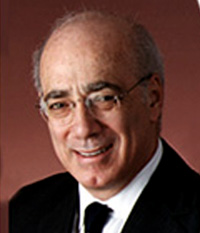 Nuremberg, Sixty Years After: Rhetoric and Meaning
MICHAEL MARRUS
TUESDAY, FEBRUARY 21, 2006
While bringing high-ranking Nazi defendants to justice for crimes committed during World War II, the Nuremberg Trials carried out by the International Military Tribunal in 1945-46 introduced the concept of crimes against humanity. One of the twentieth century's most important legal proceedings, these postwar trials and their implications continue to be of immense importance.

Acclaimed scholar Michael Marrus will discuss the rhetoric and meaning of these landmark trials. Marrus is the Chancellor Rose and Ray Wolfe Professor of Holocaust Studies at the University of Toronto. A Fellow of the Royal Historical Society, he received his M.A. and Ph.D. from the University of California at Berkeley. He has been a visiting fellow and professor at Oxford, Hebrew University of Jerusalem, UCLA, and the University of Cape Town, South Africa.

He is the author of, among other books, The Nuremberg War Crimes Trial, 1945-46: A Documentary History (1997), The Holocaust in History (1987), and The Politics of Assimilation: French Jews at the Time of the Dreyfus Affair (1980). He was also a member of the international Catholic-Jewish historical commission to examine the role of the Vatican during the Holocaust.