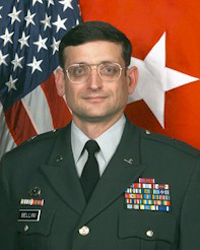 Service to Country: A Family and Community Endeavor
MARK BELLINI
TUESDAY, FEBRUARY 14, 2006
It is not just a Soldier that enlists or receives a commission into the Army; it's a larger personal network that includes immediate and extended family members, former teachers and coaches, fellow employees, employers, church members and other members of the community. Simply put, a Soldier's not alone in his/her service to country. The Soldier's honorable service reflects more than himself/herself. This is as apparent today as ever, as the United States enters the fifth year in its Global War on Terrorism. Today, active and reserve forces, representing communities across all states and territories, engage in the full spectrum of military operations around the world representing America and her citizens.
Brigadier Mark A. Bellini, a native of Bethel Park, Pennsylvania, was commissioned a Second Lieutenant in the regular Army in 1979 following graduation from Edinboro University of Pennsylvania where he received a bachelor's degree in Economics. In addition to a bachelor's degree, Brigadier General Bellini holds masters' degrees in Business Administration, Military Arts and Science (Theater Operations), and Strategic Studies. After attending the US Army War College in Carlisle, Pennsylvania, General Bellini was assigned to the War College faculty as Director, Military Strategy in the Department of National Security and Strategy. BG Bellini, while in Europe also attended the German Military's Higher Command and Staff Seminar at the Fuhrungs Academy, Hamburg, Germany.

BG Bellini, the 49th Quartermaster General of the US Army, has been assigned to a variety of key command and staff positions in the United States and abroad. His most recent assignments include Deputy Commanding General, 21st Theater Support Command (Germany); Commander, 1st Infantry Division Support Command (Germany) where he deployed to Turkey in support of Operation Iraqi Freedom; Deputy Chief of Staff, US Army Materiel Command; and Commander, 27th Main Support Battalion, 1st Cavalry Division.
BG Bellini's awards and decorations include the Legion of Merit (with oak leaf cluster), Bronze Star Medal, Defense Meritorious Service Medal, and Meritorious Service Medal (with five oak leaf clusters).

Following remarks by BG Bellini, a tribute to America's Soldiers and those family and community members who have supported them from our earliest days to the present, will be presented.