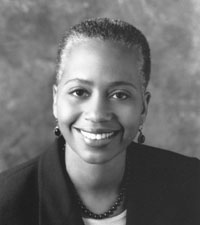 Shifting: The Double Lives of Black Women in America
KUMEA SHORTER-GOODEN
WEDNESDAY, FEBRUARY 15, 2006
LUNCH 11:45 a.m., LECTURE 12:15 p.m.
According to many social scientists, Black women must contend with the double jeopardy of being Black and female in a society that continues to devalue both statuses. Drawing on the African American Women's Voices Project, a qualitative research study of 399 Black women, ages 18 to 88, from all walks of life, Kumea Shorter-Gooden will explore the impact of racial and gender bias on Black women's self-image and emotional well-being; lives at school, work and in houses of worship; and relationships with men. She will discuss the concept of "shifting" and the implications for any group that is marginalized or stigmatized; e.g., other people of color, women in general, or people who are gay or lesbian. Also included in the discussion will be challenges to and strategies for creating a fair and just world.

Dr. Shorter-Gooden was one of two Black girls to integrate The Madeira School in Virginia in 1966, and she graduated with a B.A. degree (Magna Cum Laude) from Princeton University with its first class of women. She later earned the Ph.D. in Clinical/Community Psychology from the University of Maryland. A Licensed Psychologist based in Pasadena, California, she has a private psychotherapy and organizational consultation practice, and is an active speaker and workshop leader around issues related to African American mental health, women's issues, and multiculturalism and diversity. Her luncheon talk is sponsored the Dean of Students at CMC.