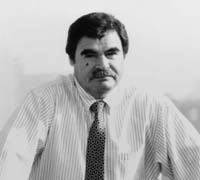 Mexican Americans and Their Contributions to the United States
SAL CASTRO
THURSDAY, MARCH 30, 2006
LUNCH 11:45 a.m. LECTURE 12:15 p.m.
In March 1968, nearly 10,000 Mexican American students from five Los Angeles high schools walked out on their classes to protest the disparaging conditions of their education system. During the historic ten-day "Blowouts," students brought the Los Angeles school system to a standstill. This event signified the beginning of the Chicano civil rights movement.

Sal Castro was a motivating force in these protests. He inspired students to reach their potential and took the time to educate them about their Mexican American heritage. When his high school students expressed their concerns about limited resources and opportunities, he listened. He strongly believed in the importance of education and supported them as they fought for a better education system. Shortly after the protests, Mr. Castro and twelve others were prosecuted by the county Grand jury for conspiring to instigate the walkouts. They were freed on bail thanks to monetary contributions from Robert Kennedy and Eugene McCarthy, 1968 presidential candidates.

Although he is now a retired teacher and counselor in the Los Angeles Unified School District, Sal Castro continues his commitment to youth through his coordination of the Chicano Youth Leadership Conference. Featured in the documentary, "Chicano!" (1996) he was invited to the White House by President Clinton in May 1996.

During his lecture, Mr. Castro will share his own experiences during the time of the "Blowouts" and discuss the contributions of other Mexican Americans to the United States. In collaboration with Sal Castro's lecture, the HBO movie, "Walkout" (2006), will be shown on Wednesday, April 5th at 7:00 p.m. in the Broad Performance Space at Pitzer College. Directed by Edward James Olmos and produced by Moctezuma Esparanza, "Walkout" brings to life the dramatic protest that served as the driving force of the Chicano civil rights movement.

Sal Castro's lecture is sponsored by the Dean of Students Office at CMC and the Athenaeum as part of the 2006 Cesar Chavez Commemoration program.