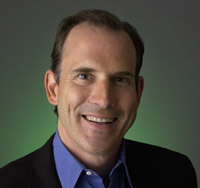 Perspectives on Product Innovation and Technology: A Silicon Valley Insider's Report
JONATHAN ROSENBERG '83
THURSDAY, MARCH 30, 2006
As part of the Athenaeum's continuing look at the successful careers of CMC Alumni, we are pleased to welcome Jonathan Rosenberg '83 back to Claremont McKenna. Mr. Rosenberg is the Vice-President of Product Management at Google, which he joined in 2002 with responsibility for the development and management of Google's varied product lines encompassing consumer offerings and personalized services. He brings more than 15 years experience to Google in the fields of information services, software, and online consumer services, including his tenure as Senior Vice President of Online Products and Services for Excite@Home in Redwood City, California, where he was the founding member of @Home's product group.
Prior to joining @Home, Rosenberg managed Apple's eWorld product line and served as Director of Product Marketing for Knight-Ridder Information Services in Palo Alto, California. In this role, he directed development of one of the first commercially deployed online relevance ranking engines and menu-driven Boolean search services for consumers.

Rosenberg holds an MBA from the University of Chicago and a Bachelor's Degree in Economics, with honors, from Claremont McKenna College. He graduated Phi Beta Kappa from CMC as well. His lecture is part of the Athenaeum's on-going series, Life after CMC: Alumni on the Move.