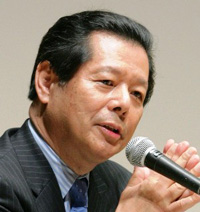 The Future of U.S.-Japan Relations in the Post-American Century
YOICHI FUNABASHI P'94
TUESDAY, MARCH 7, 2006
After a period of uncertainty in the post Cold War world, the U.S. and Japan have elevated their relationship from regional partners to global strategic allies. Two generations after WWII and the atomic bombings of Hiroshima and Nagasaki, it is remarkable to note how far and in what ways the U.S.-Japan relationship has matured. It is also important to note in what ways they have not. In 2006, with a rising China, a probably nuclear Korean peninsula, and an energy rich Russia starting to exert its petrol power, how will the U.S.-Japan relationship further evolve? Dr. Funabashi will address the foundation for the U.S.-Japan relationship, current challenges, and future possibilities given the context of a changing balance of power in East Asia.
Yoichi Funabashi is Columnist and Chief Diplomatic Correspondent for the Japanese newspaper, Asahi Shimbun, and is currently serving as a Distinguished Guest Scholar at the Brookings Institution in Washington, D.C. He is also a contributing editor of Foreign Policy (Washington, DC).

He served as correspondent for the Asahi Shimbun in Beijing (1980-81) and Washington (1984-87), and as American General Bureau Chief (1993-97). In 1985 he received the Vaughn-Ueda Prize for his reporting on international affairs. He won the Japan Press Award, known as Japan's "Pulitzer Prize," in 1994 for his columns on foreign policy, and his articles in Foreign Affairs and Foreign Policy won the Ishibashi Tanzan Prize in 1992.
Dr. Funabashi received his B.A. from the University of Tokyo in 1968 and his Ph.D. from Keio University in 1992. He was a Nieman Fellow at Harvard University (1975-76), a visiting Fellow at the Institute for International Economics (1987) a Donald Keene Fellow at Columbia University (2003), and has been serving as a visiting professor at the University of Tokyo Public Policy Institute since 2005.

The Keck Center for International and Strategic Studies is pleased to host Dr. Yoichi Funabashi's visit to CMC as a Freeman Foundation Visiting Professor in Asian Affairs.