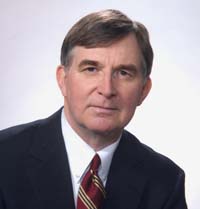 The University in the Minds of the Founders
JAMES PIERESON
WEDNESDAY, APRIL 19, 2006
LUNCH 11:45 a.m., LECTURE 12:15 p.m.
The American university went through two major revolutions in the past century, the first driven by ideas of progressive reform, and the second by radical preoccupations with cultural change. Each revolution brought us further from the founders' understanding of the purpose of the American university – what Jefferson called a "republic of letters." James Piereson will discuss the founders' understanding of the American university, and the possibility of restoring the principles of liberty, the search for truth, and the respect for the heritage of free institutions in a revitalized "republic of letters."

James Piereson is president of the William E. Simon Foundation, a private grantmaking foundation with charitable interests in education, religion, and the problems of youth. He is also a senior fellow at The Manhattan Institute, where he heads a project on "The American University." He was executive director and trustee of the John M. Olin Foundation from 1985 until the end of 2005.

Mr. Piereson served on the Political Science faculties of several universities, including Iowa State (1974), Indiana University (1975), and the University of Pennsylvania (1976-82), teaching courses in United States government and political theory.

The author (with J. Sullivan and G. Marcus) of Political Tolerance and American Democracy (1989), Piereson has published articles and reviews in numerous journals. His talk is sponsored by the Henry Salvatori Center for the Study of Individual Freedom in the Modern World.