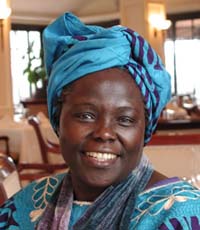 Sustainable Development, Democracy, and Peace: A Critical Link
WANGARI MAATHAI
WEDNESDAY, APRIL 26, 2006
"Maathai stands at the front of the fight to promote ecologically viable social, economic and cultural development in Kenya and in Africa."

-Oje Danbolt Mjoes, Nobel committee chairman.

As a globally respected environmentalist in a region known for both its natural beauty and its environmental struggles, Wangari Maathai continues to fight for the preservation of Kenya's natural habitats and the development of a sustainable, environmentally sound developmental policy. In fact, her entire life represents an inspirational struggle to overcome one hurdle after another for the sake of conservation, democracy and human rights.
Dr. Maathai was the first woman to earn a doctorate degree in East and Central Africa when she graduated from the University of Nairobi in 1971, as well as an active member and then Chairwoman of the National Council of Women of Kenya from 1976 to 1987. She has appeared before the United Nations on several occasions, and her efforts on behalf of environmental protection and sustainable development have earned her universal admiration from the international community. In 2004 she received the Nobel Peace Prize, a fitting tribute to a career that had already been recognized with numerous awards, including the Petra Kelly Prize for Environment in 2004, the U.N.'s Africa Prize for Leadership in 1991, and the Woman of the Year Award in 1983.
Wangari Maathai currently serves on the boards of several organizations active in the field of conservation, and her approaches to environmental protection are utilized across the globe. In 2002, she was elected to Kenya's Parliament with a staggering 98% of the vote and subsequently appointed Kenya's Assistant Minister for Environment, Natural Resources and Wildlife.
Dr. Maathai's Athenaeum lecture is made possible by a grant from the Andrew W. Mellon Foundation and support from the Roberts Environmental Center, the Office of the President at CMC, and the David E. French Lectureship Fund.