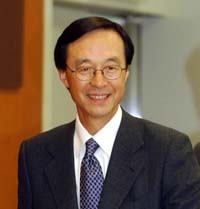 Revisiting the Korea-U.S. Alliance
SUNG-JOO HAN
WEDNESDAY, APRIL 5, 2006
Much concern has been expressed regarding the current state and future of the alliance between the Republic of Korea and the United States. We encounter such concern, not only in South Korea but also in the United States. Some are critical of South Korea for taking an excessively accommodating stance toward North Korea in the interest of maintaining good relations with it. Some point out that South Korea's stance between the United States and China is vague. On the other hand, some are concerned that the United States, while focusing on the war on terrorism, tends to take a unilateralist and excessively hard line approach vis-à-vis North Korea. Dr. Han Sung-joo will discuss the complexities of this concern.

Dr. Han is professor emeritus of International Relations, Korea University and President of Seoul Forum for International Affairs. He was the Minister of Foreign Affairs (1993–94), U.N. Secretary-General's Special Representative for Cyprus (1996–97), a member of the U.N. Inquiry Commission on the 1994 Rwanda Genocide (1999), Chairman of the East Asia Vision Group (2000–2001), and Ambassador of the Republic of Korea to the United States (2003–2005).

Professor Han is a graduate of Seoul National University (1962) and received a Ph.D. in political science from the University of California, Berkeley (1970). Previously, he taught at the City University of New York (1970–78) and was a visiting professor at Columbia University (1986–87) and Stanford University (1992, 1995).
His English publications include Korean Diplomacy in an Era of Globalization (1995), Korea in a Changing World (1995), and Changing Values in Asia (1999).

The Keck Center for International and Strategic Studies is pleased to host Dr. Han Sung-joo's visit to CMC as a Freeman Foundation Visiting Professor in Asian Affairs.