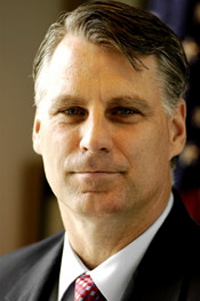 A New Direction for the Parties?
TIMOTHY ROEMER
FRIDAY, APRIL 7, 2006
LUNCH 11:45 a.m., LECTURE 12:15 p.m.
As Congressman from the Third District of Indiana from 1991-2003, Tim Roemer was recognized for his successful leadership on balancing the federal budget, reforming public schools, and improving the affordability of higher education.

After the attacks of September 11th, Roemer used his position on the Permanent Select Committee on Intelligence to support the work of a Joint Congressional Inquiry into the nature of the attacks. Roemer also was the key sponsor of legislation to establish the "9/11 Commission."

Since leaving Congress in 2003, Roemer has continued to work on national security policy as President of the Center for National Policy. He has promoted new ideas on national security issues in the pages of The New York Times, The Wall Street Journal, The Washington Post, USA Today, Time, and U.S. News and World Report. He is also spearheading a bipartisan project to bridge the ideological gap on abortion.

In early 2005 Roemer ran a brief campaign for chairmanship of the Democratic National Committee. He is widely considered a leading light among young, moderate Democrats.

He will examine the potential for shifting approaches on policy and politics by the major parties, particularly focusing on change within the Democratic Party. His talk is part of an all-day Salvatori Center conference on the future of the American parties.

Roemer is a Distinguished Scholar at the Mercatus Center at George Mason University. He received his M.A. and Ph.D. in American Government from the University of Notre Dame and his B.A. from the University of California, San Diego.