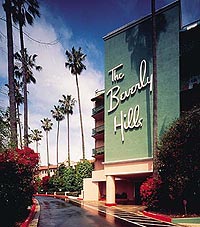 Under the Lights Theater company presents
Dinner Theater
California Suite by Neil Simon
JOHN VAN WYCK '06, director
BRAD WALTERS '08, assistant director
WEDNESDAY-FRIDAY, APRIL 12, 13, 14, 2006 (6:00 p.m.)
If these hotel walls could talk . . . . .
Set in the prestigious Beverly Hills Hotel, California Suite (1978) chronicles the separate visits of five different couples. A happily divorced couple reuniting after 13 years, a man trying to keep his wife out of the bedroom, an Academy Award nominee with her husband in tow, and a pair of young couples whose friendship is quickly growing old form the cast of this four-part comedy about estrangement, loss, disappointment, and surprise.
A connoisseur of the mundane, Neil Simon has always been fascinated with the extraordinary nature exhibited by ordinary people. His characters are easily relatable while maddeningly flawed, perfectly human in their comical imperfection.
Simon's unique talents have made him undoubtedly the world's most successful playwright with over two dozen plays to his name, nearly as many film adaptations, and numerous awards, which include three Tony Awards and a Pulitzer Prize.
The Under the Lights theater company production of California Suite stars Ryan Cassella '06, Amanda Sardis '09, Annie Fairman '07, Lindsay Mandel '09, Evan Sippel '08, Ariel Boorstin '07, Charlie Rice '06, Beth Brunner '06, Brian Davidson '08, Jules Dormady '08, and Julia Masnik '08. It is being directed by John Van Wyck '06 and assistant director Brad Walters '08.
Claremont Colleges students, faculty, and staff- NO CHARGE
Community Guests- $17.00