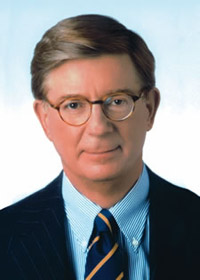 The Political Argument Today
GEORGE WILL
TUESDAY, APRIL 18, 2006
As political commentary descends ever deeper into the abyss of partisan and hypocritical analysis, the efforts of truly intelligent and insightful observers become increasingly worthy of admiration and emulation. One such observer is George Will, whose shrewd scrutiny of contemporary political, ideological, and social issues has marked him as one of America's leading political analysts for over three decades. His ability to see through the usual political banality and portray the key themes of even the most controversial of issues is as remarkable as it is rare.

Mr. Will received his Ph.D. from Princeton University and worked as a staff member in the United States Senate from 1970 to 1972. He served as the Washington Editor of the National Review magazine from 1973 to 1976, and it was during this period that his column began to appear in syndication in the Washington Post, where it has remained for more than 30 years. He became a regular contributing editor for Newsweek magazine in 1976, and won a Pulitzer Prize for Commentary in 1977.
In addition to collections of his columns, of which seven have been published, Mr. Will is the author of numerous books on politics, political philosophy, and American society, including With A Happy Eye But…: America and the World, 1997-2002 (2002); Restoration: Congress, Term Limits and The Recovery of Deliberative Democracy (1992); and Men At Work: The Craft of Baseball (1990), which spent two months atop The New York Times bestseller list.
George Will's lecture at the Athenaeum is sponsored by the Res Publica Society of Claremont McKenna College.