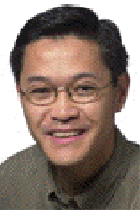 Dinner for the Class of 2010
Serendipity, Science, and the Bird Flu
THOMAS POON
THURSDAY, SEPTEMBER 7, 2006
The first Athenaeum dinner/lecture of each year is reserved exclusively for members of the freshman class. Traditionally, a member of the Claremont McKenna College faculty is invited to deliver this introductory lecture. First-year students this fall will have the opportunity to meet Dr. Thomas Poon, associate professor of chemistry at CMC. Dr. Poon is a member of the Joint Science Department (JSD) and is also a faculty member at Pitzer and Scripps Colleges. In his Athenaeum lecture, professor Poon will describe his research on natural products, and how it lead to the discovery of a process that could help meet the demand for the antiviral drug Tamiflu™ in the event of a bird flu pandemic.

Plants have long been the source of health and healing even before written records of such practices were kept. Today, 60-70% of the world's population still relies primarily on plants for medicine. Even in the wealthier countries, 25% of prescription medicines have their origins from nature. This percentage increases considerably when one considers over-the-counter medications and synthetic drugs made from chemicals found in nature. Perhaps the most recent example of nature's potential role in fighting disease is the drug known as Tamiflu™. Tamiflu™, the current best hope for fighting a bird flu pandemic, is made by Hoffmann-La Roche, Ltd. in a laborious and expensive yearlong process. Tamiflu™ is not found in nature, but shikimic acid, the chemical used to produce it, is obtained from the seeds of the star anise, a spice used in various Asian cuisines. Thanks to the undergraduate researchers in Dr. Poon's group, a new source now exists right here in Claremont (and throughout the U.S.). In his talk, Prof. Poon will discuss how serendipity and science lead to this discovery, and how nature has once again revealed its generosity.

Poon received his undergraduate education at Fairfield University in Connecticut and his Ph.D. in organic chemistry from UCLA. He joined the JSD in 2000 and has authored 20+ peer-reviewed articles, many with undergraduate co-authors. His recently published textbook, Introduction to Organic Chemistry (2004), has been translated into Italian and Japanese, and Dr. Poon's website, www.ochem.com, has been described by the journal Science as a way to help students "avert an organic breakdown."

Everyone at the Marian Miner Cook Athenaeum looks forward to welcoming members of the class of 2010 on this special occasion. Freshmen are automatically signed up for the dinner. If you are unable to attend please email brittany.liu@claremontmckenna.edu or call ext. 18244 to cancel.