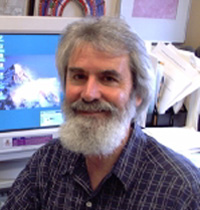 Life and Death at High Altitude: What Himalayan Mountaineers and Late Permian Vertebrates Have in Common
RAYMOND HUEY
TUESDAY, SEPTEMBER 12, 2006
Imagine living at an altitude of 6,000 m where the partial pressure of oxygen is less than half of that at sea level. Or, in the Great Salt Lake where the salt concentration is hundreds of times that in tributaries of the Amazon River. Or, at a depth of 10,430 m, next to a thermal vent in the Marianas Trench where the temperature is 350°C, pressure is 1,000 times that at the surface, and the vent is spewing out clouds of sulfur. Or, in a frozen lump of methane in the Gulf of Mexico. Some organisms not only tolerate such conditions, they actually thrive under them. Environmental conditions on the earth vary tremendously; however, the range of conditions under which humans can survive is remarkably small. This may explain not only why we have long been fascinated by organisms that live at extremes, but also why we still understand relatively little about how it is that they do so.

This fall semester 2006 the Joint Science Department of The Claremont Colleges, the biology departments of Harvey Mudd College and Pomona College, and the Marian Miner Cook Athenaeum are very pleased to offer a series of four lectures by world-renowned experts on extreme environments and the physiology and ecology of organisms that inhabit them: Life at the Limits: The Physiology of Extremophiles. Professor Raymond Huey, professor of biology at the University of Washington, will present the first lecture in this series.

High altitude environments such as Everest and K2 in the Himalayas are challenging not only because of low partial pressures of oxygen but also because of temperatures that can plummet to -55°C and winds of over 100 mph. Despite this, the world's highest mountains are climbed yearly. What factors influence patterns of success and death of Himalayan mountain climbers? Professor Ray Huey will discuss how behavior (e.g. decision to use supplemental oxygen), climber age, and environment (e.g. mountain height) influence the probability of reaching a summit and of surviving the trip back down. The problems facing today's mountaineers may seem to have little in common with animals that lived 250 million years ago. However, professor Huey suggests that high background extinctions during the Late Permian and the subsequent slow recovery of ecosystems may have been due in part to world-wide declines in oxygen levels. Recent data indicate that 240 million years ago, the availability of oxygen at sea level was comparable with that found today at more than 5 km above sea level (about 7,500 ft above the summit of Mt Baldy).

Dr. Huey is the author of well over 130 research publications, book chapters, and reviews. Among his many honors and appointments, he was chosen as a "Distinguished Herpetologist" by The Herpetologists' League in 1991, was President of The American Society of Naturalists in 1993, was a Guggenheim Fellow in 1998-9, and received the "President's Award" (best paper of the year) in 2004 from The American Society of Naturalists.