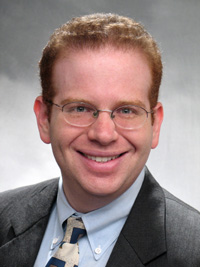 Running and Winning: What It Takes
JAKE ZIMMERMAN '96
TUESDAY, SEPTEMBER 19, 2006
The real world of modern electoral politics often travels a road far different than the one contemplated in textbooks and academic discussion. As CMC's most recently successful alumnus in electoral politics, Jake Zimmerman knows a thing or two about that road. After charting a political course from long-shot outsider to establishment candidate in less than a year, he will soon begin serving in the Missouri Legislature. But first, he's taking a brief respite from the trenches and coming home to CMC. Jake's experience running for office in a swing state is a tantalizing glimpse behind the spin and into the real dynamics of campaign life. And his story — complete with intrigue, party rivalry, smoke-filled rooms, and even a little bit of raw idealism — is as good as it gets.

Jake Zimmerman, a Missouri native, graduated from CMC in 1996 with a B.A. degree in PPE and government, and from Harvard Law School in 2000. After several political internships (including one in Bill Clinton's White House), Jake worked as a campaign field office director, an attorney in private practice, Assistant Missouri Attorney General, Deputy Chief Counsel to the Governor of Missouri, and again as a private-sector attorney before running for office. (As his mother says: "he can't hold a job.") Today, Jake is a first-time candidate for the Missouri House of Representatives. With no opposition in the November general election, he will be inaugurated in January, 2007. This will be the first significant political office he has held, unless you count the ASCMC Vice-Presidency.

Come join us for an insider's view of the emotional roller coaster of campaign life, along with a few thoughts about what this election cycle means for Missouri and for America.