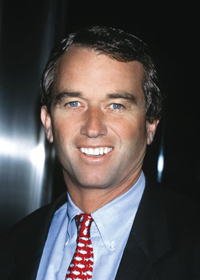 Crimes Against Nature
ROBERT F. KENNEDY JR.
WEDNESDAY, SEPTEMBER 20, 2006
Robert F. Kennedy Jr.'s reputation as a resolute defender of the environment stems from a litany of successful legal actions. Kennedy was named one of Time magazine's "Heroes for the Planet" for his success in helping Riverkeeper lead the fight to restore the Hudson River. The group's achievement helped spawn more than 125 Waterkeeper organizations across the globe.

Kennedy serves as senior attorney for the Natural Resources Defense Council, chief prosecuting attorney for the Hudson Riverkeeper, and president of Waterkeeper Alliance. He is also a clinical professor and supervising attorney at Pace University School of Law's Environmental Litigation Clinic and is co-host of Ring of Fire on Air America Radio. Earlier in his career, he served as assistant district attorney in New York City.

Among Kennedy's published books are The New York Times bestseller Crimes Against Nature (2004); The Riverkeepers (1997); and Judge Frank M. Johnson Jr: A Biography (1977). His articles have appeared in The New York Times, The Washington Post, the Los Angeles Times, The Wall Street Journal, Newsweek, Rolling Stone, Atlantic Monthly, Esquire, The Nation, Outside magazine, the Village Voice, and many other publications.

Kennedy is a graduate of Harvard University. He studied at the London School of Economics and received his law degree from the University of Virginia Law School. Following graduation, he attended Pace University School of Law, where he was awarded a master's degree in environmental law.

This lecture is supported with funds from the Andrew W. Mellon Foundation, the Robert's Environmental Center, and the Kravis Leadership Institute and is part of the Athenaeum series Leadership in Times of Crisis: The Environment.