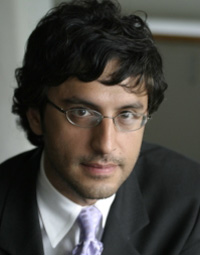 The Future of Islam: Toward the Islamic Reformation
REZA ASLAN
THURSDAY, SEPTEMBER 21, 2006
In 1978, at age seven, Reza Aslan fled Iran with his family amidst the chaos of a revolution. Today, he is a respected expert on Islam and the Middle East, a scholar and media consultant on issues of religion and politics, and author of No god but God: The Origins, Evolution, and Future of Islam (2005). Praised by The New York Times as a "grippingly narrated and thoughtfully examined . . . literate, accessible introduction to Islam," No god but God has established Aslan as one of the most dynamic voices of liberal Islam in the United States.

In his lectures and writings, Aslan explores the intricate interplay between faith and politics in the Muslim world, presenting Islam as an ever-evolving faith and culture that is currently in the midst of a cataclysmic internal battle for reform and modernization. Aslan argues that the current conflicts in the Middle East are not the result of a "clash of civilizations" between Islam and the West, but rather the consequences of an "Islamic reformation" occurring with the Muslim world, an internal struggle to define the future of this magnificent yet misunderstood faith and to harmonize its traditions and values with contemporary ideals of democracy and human rights.

Reza Aslan has degrees in religion from Santa Clara University, Harvard University, and U.C. Santa Barbara, as well as a M.F.A. in fiction from the Iowa Writers' Workshop. In 2000, Aslan was named visiting professor of Islamic Studies at the University of Iowa, becoming the first full-time professor of Islam in the history of the state. In 2003, Aslan left his post at the University of Iowa to concentrate full-time on writing. His work has appeared in the Los Angeles Times, The New York Times, The Boston Globe, The New York Review of Books, Prospect Magazine (UK), Slate Magazine and The Nation.

Reza Aslan's lecture is made possible through the generosity of CMC alumnus L. J. Kutten '74, and is part of the Athenaeum series Voices from the Middle East.