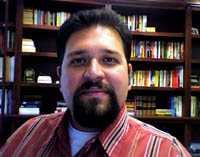 LATINO HERITAGE MONTH KEYNOTE SPEAKER
Disobedient Bodies: A Chicana/o Perspective on Immigration
TOMÁS SUMMERS SANDOVAL, JR.'94
WEDNESDAY SEPTEMBER 27, 2006
In the spring of 2006, well over two million people took to the streets to protest immigration legislation. Largely in response to the December 2005 passage of restrictive legislation by the House of Representatives, these mobilizations illustrate the coming importance and controversy of immigration issues in the 21st century.

Often compared to the Civil Rights movement of the 1960s, the current immigrants' rights movement provides an opportunity to consider the meaning of citizenship, race, and disobedience in new ways. The field of Chicana/o studies begins its work here, at the crossroads of history shaping immigrant lives, national responses, and social definitions.

In his talk Sandoval will focus on how U.S. National culture shapes our understanding of the immigrant body as a socially constructed group. He suggests that the immigrant participation in visible protests movements can be seen as something more than simple protest against legislation. It is a type of "cultural citizenship," an assertion of their claims to certain social rights. Perhaps most importantly, his talk will address the often forgotten human and cultural aspect of immigration.

Sandoval is an assistant professor of history and Chicano/Latino studies at Pomona College. He holds a joint appointment in the history department and in the Inter-Collegiate Department of Chicano/Latino Studies. He graduated from CMC in 1994 with a B.A. in PPE and history. He earned a M.A. in 1996 and Ph.D. in 2002, both in history, from the University of California, Berkeley. He is an expert on Chicano/Latino identity and community formations, and is the author of several published articles on race and history. He is currently developing a book on the history of the Latina/o communities of San Francisco. This lecture is jointly sponsored by the Chicano/Latino Student Affairs Center and the Athenaeum.