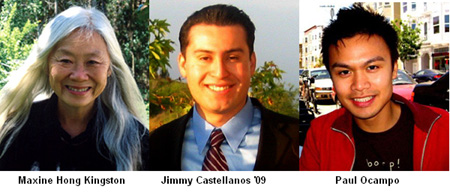 Veterans of War, Veterans of Peace: A Reading
MAXINE HONG KINGSTON
JIMMY CASTELLANOS '09
PAUL OCAMPO
TUESDAY, OCTOBER 3, 2006
For more than twelve years, National Book Award-winning author Maxine Hong Kingston has led writing and meditation workshops for war veterans and their families. The contributors to this volume – combat veterans, medics, and others who served in war; gang members, drug users, and victims of domestic violence; draft resisters, deserters, and peace activists – are part of this community of writers working together to heal the trauma of war through art.
Maxine Hong Kingston's books - The Woman Warrior: Memoirs of a Girlhood among Ghosts (1976), China Men (1982), Tripmaster Monkey: His Fake Book (1989), The Fifth Book of Peace (2003), and others – have won critical praise and national awards including the National Book Critics Circle Award for Nonfiction, PEN West Award for Fiction, and the American Book Award. In 1997, President Bill Clinton presented her with a National Humanities Medal and she has been named a "Living Treasure of Hawaii."

For the past five years, Jim Castellanos has served as an Aviation Weapon Systems Technician in the United States Marine Corps. In 2004, he deployed to Al Asad, Iraq on a seven-month combat tour in support of Operation Iraqi Freedom. For his service in Iraq, he was awarded the Iraqi Campaign Medal and the Global War of Terrorism Service Medal, among others.
Castellanos is a contributing author in the forthcoming book, Veterans of War, Veterans of Peace (2006), edited by Maxine Hong Kingston, where his narrative, "Voluntary Disarmament in Iraq," tells his story about war, ethics, and change, which subsequently prompted a two-year conscientious objector investigation by the United States Marine Corps. He is currently a biology-chemistry major at Claremont McKenna College.

Paul Ocampo lives in Los Angeles. He graduated from U.C. Berkeley with a degree in English literature, taught English in Korea for a season, and assisted Maxine Hong Kingston in editing her forthcoming anthology, Veterans of War, Veterans of Peace, where his short story "Butterfly" is included. He has also been published in the literary journal Lodestar Quarterly. He is currently attending UCLA for his Master of Arts in Asian American Studies where he will focus on a collection of short stories that address the disembodiment of identity and voice.