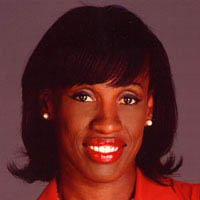 Before and After Olympic Glory
JACKIE JOYNER-KERSEE
OCTOBER 4, 2006
Jackie Joyner-Kersee is often regarded as the best all-around female athlete in the world and the all-time greatest heptathlete. Of her five Olympic medals, she holds three gold medals, one silver medal, and one bonze medal. At 23 feet nine inches, she holds the American record for the long jump. With her score of 7,161, she was the first woman to earn more than 7,000 points in the heptathlon, and has held the heptathlon world record since 1986.
Ms. Joyner-Kersee overcame poverty, discrimination, personal tragedy, and asthma to become the most decorated woman in U.S. Olympic track and field history. In February 2001, Joyner-Kersee, at age 38, officially retired. Rather than glancing back at past triumphs, she seeks new challenges. "It's better to look ahead and prepare," she declares, "than to look back and regret."

True to her humble style, Joyner-Kersee believes that, "The medals don't mean anything and the glory doesn't last. It's all about your happiness. The rewards are going to come, but my happiness is just loving the sport and having fun performing."

With the hope of improving the quality of life for all people in her native St. Louis, she founded the Jackie Joyner-Kersee Foundation. Its mission is accomplished by providing youths, adults, and families with innovative programs and services focused on health, education, leadership, sports, and volunteer opportunities. In 2005, the foundation celebrated five years of service, during which it raised over $12 million for programs. "We have come a long way and we have seen great things happen with the youth and families of East St. Louis," explains Joyner-Kersee, "and we are extremely proud to have helped make a difference in the lives of youth and all the people of this community."

Jackie Joyner-Kersee's visit to CMC is jointly sponsored by the Kravis Leadership Institute, the department of physical education and athletics, and the Athenaeum.