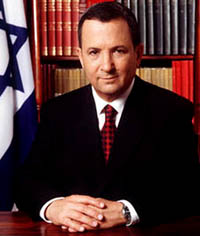 Economic Development in Today's World
EHUD BARAK
TUESDAY, OCTOBER 31, 2006
During his tenure as the tenth prime minister of Israel, Ehud Barak led the country out of prolonged recession and into an economic boom, with 5.9% annual growth, record foreign investments, near zero inflation, a halved deficit, and significantly decreased external debt.

However, the core of Prime Minister Ehud Barak's efforts were devoted to the peace process. In May 2000, Barak ordered the withdrawal of the Israeli Defense Forces from South Lebanon, ending 18 tragic and bloody years of Israel's presence there. He led far-reaching efforts to negotiate peace agreements, first with Syria and later with the Palestinian authority. His negotiations also included the active participation of President Bill Clinton's administration. Regrettably, these negotiations did not result in the breakthroughs necessary to conclude final agreements.

Before being elected Prime Minister, Ehud Barak completed an illustrious 36-year career in the Israeli Defense Forces as the most decorated soldier in Israeli history. For many years he led Israel's elite anti-terrorist unit, on one occasion successfully storming a hijacked airliner in Tel Aviv, and on another - disguised as a woman - leading a raid against the organization that murdered Israeli athletes at the 1972 Munich Olympics. Mr. Barak additionally served his country as Minister of the Interior, Minister of Foreign Affairs, and Defense Minister.
A true renaissance man, Prime Minister Barak presided over an unprecedented economic boom in Israel and is able to speak with command about the economic development issues facing nations today. Ehud Barak is the first Res Publica speaker of the 2006-2007 academic year.