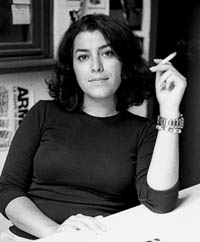 An Evening with the Author
MARJANE SATRAPI
THURSDAY, NOVEMBER 2, 2006
Marjane Satrapi was born in 1969 in Rasht, on the edge of the Caspian Sea. Part Azerbaijani, part Turkmen, part Muslim, and part Zoroastrian, she grew up in the multicultural setting of Iran. In Tehran, she studied at the Lycée Français before leaving for Vienna and, later, Strasbourg to study decorative arts.

In 1994, she moved to Paris where she met Christophe Blain, who brought her into l'Atelier des Vosges, home to many of France's celebrated "new wave" of comic book artists. There, she regaled her fellow artists with amazing stories of her family — stories of dethroned emperors, suicidal uncles, state - sanctioned whippings, and heroes of the revolution. After listening to her stories and seeing her drawings, they urged her to put her life in the pages of a comic book.
Persepolis tells the story of Marjane's growing up in Iran in the 1970s and 80s, of living through the Islamic Revolution and the war with Iraq. It is a book about childhood - a childhood at once outrageous and ordinary, beset by the unthinkable but buffered by an extraordinary and loving family. Persepolis was published in four volumes in France in 2000 and 2001, where it met with enormous critical acclaim, garnered comparisons to Art Spiegelman's Maus, and won several prestigious comic book awards (Prix Alph'art Coup de Coeur at Angoulême 2001, Prix du Lion in Belgium, Prix Alph'art du meilleur scénario 2002, Prix France Info 2002). It has been translated into German, Dutch, Portuguese, Spanish, and Italian. Persepolis is published as two volumes in the United States. Her other books include Embroideries (2005) and Poulet Aux Prunes (2006).