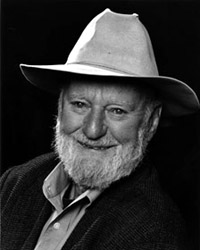 Lawrence Ferlinghetti Reads from his Work
LAWRENCE FERLINGHETTI
THURSDAY, OCTOBER 26, 2006
A prominent voice of the wide-open poetry movement that began in the 1950s, Lawrence Ferlinghetti has written poetry, translation, fiction, theater, art criticism, film narration, and essays. Often concerned with politics and social issues, Ferlinghetti's poetry countered the literary elite's definition of art and the artist's role in the world. Though imbued with the commonplace, his poetry cannot be simply described as polemic or personal protest, for it stands on his craftsmanship, thematics, and grounding in tradition.

Ferlinghetti's best-known collection of poetry is A Coney Island of the Mind (1958), and has been translated into nine languages. His book store, The City Lights Bookstore, became a mecca for writers and artists, many of them well established in the field of contemporary literature. City Lights Publishers began with the Pocket Poets Series, through which Ferlinghetti aimed to create an international, dissident ferment. His publication of Allen Ginsberg's Howl in 1956 led to his arrest on obscenity charges, and the trial that followed drew national attention to the San Francisco Renaissance and Beat movement writers. Ferlinghetti was named Poet Laureate of San Francisco in 1998.

In addition to writing and publishing poetry and running his bookstore, Ferlinghetti continues to paint and his work has been exhibited in galleries and museums. Lawrence Ferlinghetti is one of the distinguished speakers featured in the Athenaeum series in celebration of CMC's 60th anniversary recognizing individuals who have made significant contributions to American Society.