Athenaeum Location
Print Newsletter
November 6, 2006
Vol. 22, No. 04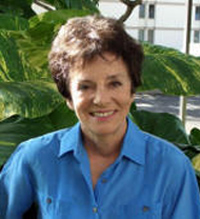 The Way We Never Were and the Way We Really Are: Myths and Realities About America's Changing Families
STEPHANIE COONTZ
MONDAY, NOVEMBER 6, 2006
Stephanie Coontz has been called "brilliant and invariable proactive" by the New York Times Book Review and "a treasure" by the Los Angeles Times. Her most recent book, Marriage, A History: From Obedience to Intimacy, or How Love Conquered Marriage (2005), rejects the idea that marriage today is in a state of crisis. Instead, she argues that relationships between men and women are healthier than they have ever been in the past; rather it is our society that is sick. Coontz has published several other works on family history, gender roles, and contemporary family issues.

A well-known lecturer and spirited debater, Coontz has addressed audiences throughout Europe, the United States, and Japan. She has also testified about her research before the House Select Committee on Children, Youth and Families. Her books have been translated into French, German, Spanish, and Japanese. Her Athenaeum lecture is co-sponsored by the Gould Center for Humanistic Studies and the Berger Institute for Work, Family, and Children.

Stephanie Coontz teaches history family studies at The Evergreen State College in Olympia, WA, and is the national Co-chair of the Council on Contemporary Families. A former Woodrow Wilson fellow, she has also taught at Kobe University in Japan and the University of Hawaii at Hilo. In 2004 she received the first Visionary Leadership award from the Council on Contemporary Families. She also received the Dale Richmond Award from the American Academy of Pediatrics for "outstanding contributions to the field of child development," the 2001-2002 Friend of the Family Award from the Illinois Council on Family Relations, and the Washington Governors' Writers Award.
Human Rights: The Agenda for the 21st Century
REGAN RALPH
TUESDAY, NOVEMBER 7, 2006
Regan Ralph, the founding executive director of the Fund for Global Human Rights, comes to CMC at a time when human rights around the world are under one of the most damaging and sustained assaults in recent memory. We are living through a period when dissidents in China are subjected to punitive sentencing; when torture has become common place, whether in American military prisons or at the hands of Islamic fundamentalists; when governments systematically exterminate their citizens, as in Darfur, Sudan; when sexual violence has been adopted as a standard military and political strategy; and when trafficking in women and children has mushroomed.
Ralph has devoted much of her career to finding ways to overcome these practices, first as Vice President for Health and Reproductive Rights at the National Women's Law Center in Washington D.C., and then as the head of the Women's Rights division of the prominent non-governmental organization, Human Rights Watch. Among her main concerns were to help assure that sexual violence during military conflicts would be prosecuted as a war crime, to secure recognition of gender-based persecution as grounds for asylum, and to promote women's rights in countries including Russia, Egypt, Turkey, South Africa, Pakistan and Mexico.

Since 9/11 it has become increasingly apparent that some of the gravest threats come from weak and failed states that harbor terrorists and often engage in gross abuses of human rights. But the traditional methods of state-to-state diplomacy are often unable to engage these states. It is here that the Global Fund for Human Rights and similar organizations make one of their greatest contributions. The Global Fund takes as its mission to work directly with individuals and organizations willing to "challenge abuse wherever it occurs. The Fund finds and funds local human rights heroes who often work at great personal risk to strengthen and bring global attention to their struggles."
Since 2002, the Fund has disbursed over $4 million to 140 human rights organizations in 13 countries. The projects have ranged from support for a campaign in India to protect the rights and dignity of rape victims and improve their prospects for justice, support for the provision of health care, education, and training to former child soldiers, and the passage of legislation to criminalize domestic violence and marital rape in Mexico.

Ms. Ralph is a graduate of Harvard University and Yale Law School, and studied international law at the London School of Economics and Arabic at the American University in Cairo. She chairs the board of the Center for Health and Gender Equity and serves on the advisory council of the Women's Law and Public Policy Fellowship Program at Georgetown University Law Center. Her lecture is sponsored by The Center for the Study of the Holocaust, Genocide, and Human Rights and the Keck Center for International and Strategic Studies.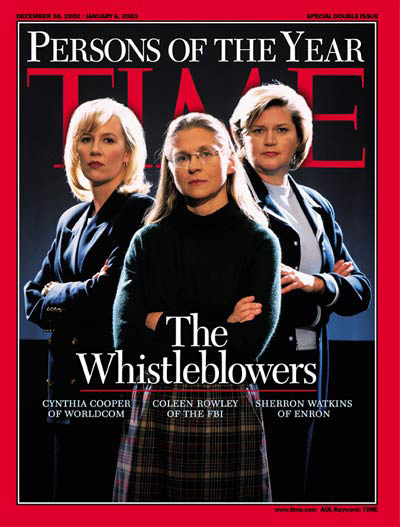 WorldCom Warnings: What Went Wrong and Corporate Governance Lessons Learned
CYNTHIA COOPER
THURSDAY, NOVEMBER 9, 2006
Cynthia Cooper's life ambition was not to destroy a corporate giant. In fact, she was a loyal and dedicated employee of WorldCom, Inc. as vice president of internal auditing. But she was and is the sort of person to whom ethics are important. And she knew that what was going on at WorldCom in 2002 was not right. Her report to WorldCom's board of directors in June 2002 detailing WorldCom's fraudulent accounting practices uncovered the largest accounting fraud in history to date ($11 billion), and brought down what was then the 25th largest company in America.
As a result, Ms. Cooper was named one of Time magazine's 2002 Persons of the Year, along with Sherron Watkins and Coleen Rowley. Time has been naming its Person of the Year since 1927, a designation given to the person or person(s) who most affected events during the year. Prior to Cooper, Watkins and Rowley, the designation had only been given to four women. Coleen Rowley spoke at the Athenaeum in 2004.

Cooper served as the Chief Audit Executive for MCI until July 2004. Prior to joining MCI, she worked in public accounting for PricewaterhouseCoopers and Deloitte & Touche. Cooper received her undergraduate degree in accounting from Mississippi State University and her Masters of Accountancy from the University of Alabama. When asked if she would do anything differently today, Ms. Cooper responds, "There was only one right path to take, and I would take it again."

Cynthia Cooper' s visit to CMC is jointly sponsored by the Kravis Leadership Institute, the accounting program at CMC, and the Athenaeum.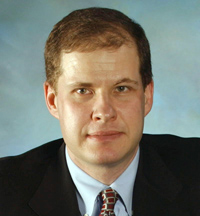 Revolutions in Military Affairs and the War on Terrorism
MAX BOOT
MONDAY, NOVEMBER 13, 2006
LUNCH, 11:45 a.m., LECTURE 12:15 p.m.
Acclaimed author and Senior Fellow for the Council on Foreign Relations, Max Boot offers a unique and well-educated perspective on the history and the future of war. His lecture will explore how innovations in weaponry and tactics have transformed how wars are fought and won. Boot argues that these innovations have guided the course of human events, from the formation of the first modern states 500 years ago, to the collapse of the Soviet Union, and to the rise of al-Qaeda. Further, he examines what America must do to survive and prevail in the newly born "Information Age."

The Washington Post, the Los Angeles Times and The Christian Science Monitor selected his The Savage Wars of Peace: Small Wars and the Rise of American Power (2002) as one of the best books of 2002. Senator John McCain described Mr. Boot's, War Made New: Technology, Warfare, and the Course of History, 1500 to Today (2006), as "sweeping and erudite, while entirely accessible to the lay reader… [K]ey for anyone interested in where military revolutions have taken us— and where they might lead in the future."
Max Boot holds a bachelor's degree in history, with high honors, from the University of California, Berkeley (1991), and a master's degree in history from Yale University (1992). He lectures regularly at numerous military schools and advises the Department of Defense on transformation issues.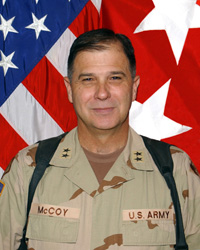 VETERANS' DAY OBSERVANCE
Building for Peace and Delivering
WILLIAM MCCOY, JR.
MONDAY, NOVEMBER 13, 2006
Who better to turn to for up-to-date, personal knowledge on the process of nation-building in Iraq than U.S. Army Major General William H. McCoy, Jr. MG McCoy has recently returned from Baghdad where he served as Commander, Gulf Region Division, US Army Corps of Engineers.
McCoy made it into the U.S. news this past August when he wrote a letter of protest following the publication of a Washington Post article critical of U.S. nation-building efforts in Iraq. MG McCoy questioned why the reporter (who had interviewed him at length in Iraq) chose to tell a bleak story over the more optimistic one. He wrote: "The reporter didn't tell you about the hundreds of dedicated military and civilian professionals he saw over here working to make Iraq better, or the Iraqis who come to work every day at their own peril because they believe in what we, and they, are accomplishing together...He never told folks back home about the thousands of children that are now in 800 new or rebuilt schools, or about oil production now being back to pre-war levels and getting better everyday, or raw sewage being taken out of the streets and put back in the pipes where it belongs, or about the thousands of miles of new roads, or post offices, police stations or courthouses..."

MG McCoy has a compelling, first-hand story to tell of nation-building in Iraq, from the perspective of a professional with thirty-two years of experience. MG McCoy is now the Commanding General, U.S. Army Maneuver Support Center and Fort Leonard Wood and Commandant, US Army Engineer School.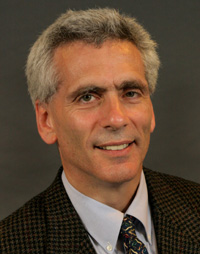 Inequality and the YOYO (You're On Your Own) Society
JARED BERNSTEIN
TUESDAY, NOVEMBER 14, 2006
After World War II, America's expanding middle and working classes were sustained by generous lifetime pensions and healthcare benefits provided by many corporate and government employers. Since the 1980s, however, competitive pressures of globalization, along with rising healthcare costs, have led employers to shift costs and risks of healthcare and retirement to individual employees. In this emerging YOYO society (you're on your own), workers are increasingly required to manage their own retirement and healthcare via 401k retirement accounts and health savings accounts. Other safety net programs— such as social security and Medicare— face probable cutbacks. How are YOYO policies and ethics re-shaping inequality and living standards in twenty-first century America? Is it time for a change?

Jared Bernstein explores these issues in his new book All Together Now: Common Sense for a Fair Economy (2006). Since 1992, he has been at the Economic Policy Institute where he is currently director of the Living Standards Program. Bernstein's areas of research include income inequality, mobility, trends in employment and earnings, low-wage labor markets, and the analysis of federal and state economic policies. From 1995-1996, he was deputy chief economist at the U.S. Department of Labor. He is the co-author of seven annual editions of The State of Working America and has published extensively in popular and academic venues, including The New York Times, The Washington Post, The American Prospect, and Research in Economics and Statistics. A frequent guest on major television news shows, Bernstein obtained a Ph.D. in social welfare from Columbia University. His lecture concludes the Athenaeum series "Debating Inequality: Is America Becoming a Two-Tiered Society" and is offered in conjunction with Professor Fred Lynch's course on Inequality, Politics and Social Policy.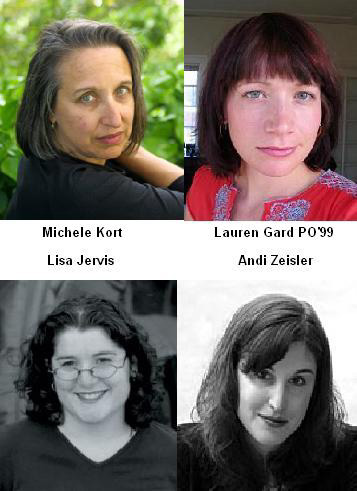 Women and Journalism: A Panel Discussion
LAUREN GARD, PO '99
MICHELE KORT
LISA JERVIS
ANDI ZEISLER
AUDREY BILGER, moderator
WEDNESDAY, NOVEMBER 15, 2006
LUNCH 11:45 a.m. DISCUSSION 12:15 p.m.
Since the early 20th century, journalism has been a field that has drawn large numbers of women writers, editors, and reporters. Women journalists have faced many challenges— ranging from lack of mainstream venue access to widespread disparagement of publications aimed at women; however, they have responded to these challenges in creative and inspirational ways.

Join us for a panel discussion with journalists who have worked in a variety of settings. Lisa Jervis and Andi Zeisler co-founded Bitch: Feminist Response to Pop Culture. Bitch began in 1996 as an all-volunteer zine with a circulation of 300 and is now an internationally distributed quarterly magazine offering feminist commentary on our intensely mediated world. Jervis is also a founding board member of the media training and advocacy organization Women in Media and News. Michele Kort is senior editor of Ms. magazine and frequent contributor to The Advocate. Lauren Gard, staff writer at the East Bay Express, a Village Voice Media-owned newspaper based in Oakland, Calififornia where she focuses on health and women's issues. Prior to joining the Express in June, Gard reviewed films and edited articles on international trends, health, sex, and astrology as an associate editor at Marie Claire in New York. The panel will be chaired by Audrey Bilger, CMC associate professor of literature, who teaches Women's Magazines and the Female Journalist.

This panel is co-sponsored by the Family of Benjamin Z. Gould Center for Humanistic Studies and the Athenaeum.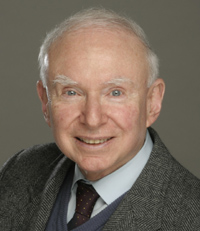 2006 Henry R. Kravis Prize in Leadership
Using Land Rights to Attack Global Poverty
ROY PROSTERMAN
WEDNESDAY, NOVEMBER 15, 2006
Described as a "worldwide champion of land rights for the world's poor," Roy L. Prosterman is the founder and Chairman Emeritus of the Rural Development Institute. Mr. Prosterman explains that "land is the chief source of livelihood for a majority of the world's poor. And when the legal system is used to provide the poor with assured access and long-term rights to even a small portion of land, it can make a huge difference to their household's income, security, and status."

In 2006, Roy Prosterman was awarded the inaugural Henry R. Kravis Prize in Leadership for his pioneering work in fighting for the rights of the rural poor to own land. The Kravis Prize, which carries a $250,000 award, honors extraordinary leadership in the non-profit sector. Mr. Kravis '67 explains that "our goal in creating The Kravis Prize was to acknowledge and honor the vision, boldness, creativity, and determination required of leaders in the not-for-profit world."

Roy Prosterman is a graduate of the University of Chicago and Harvard Law School, where he served on the Harvard Law Review board of editors. Mr. Prosterman joined the faculty of the University of Washington Law School in 1965 and was named the first John and Marguerite Walker Corbally Professor in Public Service in 1991. He has been director of the law school's post-doctoral program in Law of Sustainable International Development and has published multiple books.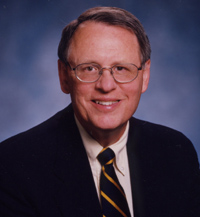 The Holocaust and the Common Good
JOHN ROTH
THURSDAY, NOVEMBER 16, 2006
As one of CMC's most cherished professors and prolific writers, Professor John Roth has established himself as serious scholar and brilliant professor. His lecture will draw from concerns reflected in his teaching at CMC for more than forty years, and he will reflect on what he takes to be some of the most important ethical implications of the Holocaust.

Spending the last year on sabbatical as the Ina Levine Invitational Scholar at the Center for Advanced Holocaust Studies at the United States Holocaust Memorial Museum, Professor Roth used the sabbatical to finish and publish five books. In addition to his career in the classroom, he has written, coauthored, or edited more than 40 books, including his latest, Ethics During and After the Holocaust: In the Shadow of Birkenau (2006).

Dr. Roth has received the Roy P. Crocker Award for Excellence four times during his tenure at CMC. In 1988, he was named U.S. Professor of the Year by the Council for Advancement and Support of Education and the Carnegie Foundation for the Advancement of Teaching. He also was the recipient of the first Claremont McKenna College President's Award in 1987 and again in 2004. His expertise in Holocaust and genocide studies has been advanced by postdoctoral appointments as a Graves Fellow in the Humanities, a Fulbright lecturer in American Studies at the University of Innsbruck, Austria, and a Fellow of the National Humanities Institute, Yale University.

Professor Roth is currently the Edward J. Sexton professor of philosophy at CMC and the director of the Center for the Study of the Holocaust, Genocide, and Human Rights. Professor Roth plans to retire after this semester; he will be sorely missed.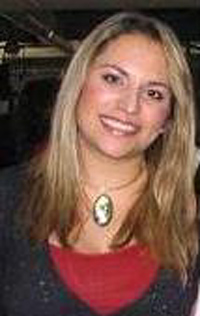 A MUSICAL TEA
A Dialogue between East and West: Persian Folk Music Meets the European Romantics
ARIA ASH-RAFZADEH '07
FRIDAY, NOVEMBER 17, 2006 3:00 p.m.
Aria Ash-Rafzadeh has been the child of many different cultures – she grew up as the daughter of an Iranian father and American mother, and has since traveled the globe doing what she loves best – being a friend to everyone she can. Whether that means a warm embrace or giving her all to relief projects in Nepal, she fully commits herself to all that she does. This same passion for life and love moves her in music, giving a soulful companion to her technical mastery. "I don't view piano as a hobby," she says simply. "I view it as a part of who I am. This program even more so. Being multicultural, it's like a conversation between both parts of me."

Aria first compiled this program for a benefit concert held in the summer of 2005. With the Kravis Institute sponsoring her trip to Iran, she was able to use the proceeds from her concert to give directly to victims of the 2003 Bam earthquake. This winter, she will graduate from Claremont McKenna College with her undergraduate degree in psychology. Though she will miss her school and her piano teacher, Gayle Blankenburg, she hopes to move to New York in the spring. There, she would like to take the first steps toward achieving her ultimate goal: a joint JD-MBA that would enable her to practice International Human Rights Law. Authentic Persian desserts will be available to all who attend her performance.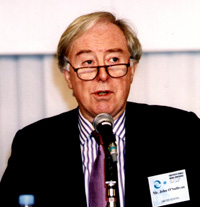 Dispelling the Nightmare: Thatcher, Reagan, John Paul II and the End of Communism
JOHN O'SULLIVAN
MONDAY, NOVEMBER 20, 2006
LUNCH 11:45 a.m., LECTURE 12:15 p.m.
John O'Sullivan, in a lecture sponsored by the Salvatori Center at CMC, will discuss how the President, the Pope, and the Prime Minister jointly contributed to the defeat of communism. Eschewing 'balance of power' strategies, these leaders cast the conflict with Soviet Communism in moral terms, restoring optimism and hope in their people while reminding the West of the ideals for which they fought. Mr. Sullivan argues that they were beacons of optimism cutting through the malaise and despair that afflicted 1970s America, strike-ridden and economically moribund post-imperial Britain, and a Catholic Church rocked by social and sexual revolutions. According to Sullivan, as we face a new and perhaps even deadlier enemy than Soviet Communism, we need to revisit the powerful lessons taught by these three great leaders who revived the faith, prosperity, and freedom of the West.

John O'Sullivan covered the Reagan presidency as a Washington columnist, was a special adviser to Prime Minister Margaret Thatcher, and has written regularly on Pope John Paul II and the Catholic Church's influence on international relations. A veteran journalist in Britain and the United States, he has been the editor in chief of National Review, The National Interest, Policy Review, and United Press International; editorial page editor of the New York Post; op-ed and editorial page editor for the London Times; and an editor with the London Daily Telegraph. He is currently editor at large for National Review, a weekly columnist for the Chicago Sun-Times, and a senior fellow with the Hudson Institute.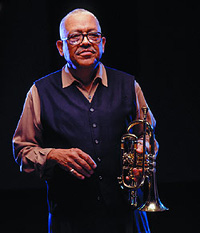 The Bobby Bradford Mo'tet: Jazz!
BOBBY BRADFORD, trumpet
WILLIAM JEFFREY, drums
CHUCK MANNING, saxophone
ROBERTO MIRANDA, bass
DON PRESTON, piano
KEN ROSSER, guitar
MICHAEL VLATKOVICH, trombone
MONDAY, NOVEMBER 20, 2006
Bobby Bradford, born in Mississippi in 1934, is considered a contemporary jazz master. A virtuoso performer on cornet and trumpet, a composer, and teacher, he has done just about everything that can be done in the musical world. When asked to describe his musical upbringing, he muses, "Early on, like all the kids, I was trying to copy solos from Dizzy and Miles and Fats Navarro. When I started trying to figure out something that was Bobby Bradford, I don't think you could put me in any of those camps." In 1949, he began playing the cornet in his high school band alongside Cedar Walton, "Fathead" Newman, and James Clay. Bradford first came to prominence in the seminal bands of Ornette Coleman from 1961 to 1963, where he was described by Coleman as "...one of the best cornet players playing today." After a brief stint with the U.S. Air Force Band, he moved to Los Angeles where he began working with famed clarinetist John Carter. Their association produced many recordings including the popular "Comin'On" on Hat Hut Records.
His career is distinct from so many other jazz musicians because of his refusal to move to the East Coast and make a name for himself in New York City. Many of his friends and contemporaries migrated, but Bobby Bradford always remained faithful to his home and his family, forgoing the fame he could have easily earned. "If no one can actually estimate the jazz world's loss, many can appreciate Southern California's gain— Bradford has been a vital catalyst of adventurous music on the West Coast for more than 25 years, and is a local treasure at Pomona College, where he teaches jazz history and directs jazz ensembles."

The Mo'tet is comprised of distinguished musicians from the Los Angeles area who have recorded and performed extensively at jazz venues throughout the country and abroad, most recently at the Los Angeles Museum of Art Jazz Concert Series. Bobby Bradford performed at the Athenaeum in 1994, along with former student, saxophonist David Murray. As described in a review by David Scott, this music is "not easy listening jazz or aural wallpaper. It commands your attention and rewards the effort, a work of modern art that keeps up with its company."

This concert is jointly sponsored by the Gould Center and the Athenaeum.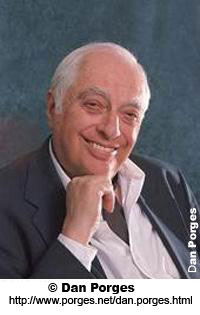 What Next in the Middle East?
BERNARD LEWIS
TUESDAY, NOVEMBER 21, 2006
4:00 p.m. MARY PICKFORD AUDITORIUM
"If they can abandon grievance and victimhood, settle their differences, and join their talents, energies, and resources in a common creative endeavor, then they can once again make the Middle East, in modern times as it was in antiquity and in the Middle Ages, a major center of civilization." Such are the words of Bernard Lewis, a historian known for his probing insights into the tangled web of the modern Middle East. Dr. Lewis, the Cleveland E. Dodge professor emeritus of Near Eastern Studies at Princeton University, first began his studies in 1936, when he graduated from the University of London. Since then, he has served in the British army, held a professorship at Princeton, retired, and published over two dozen books.
Of his many works, perhaps his most insightful is
What Went Wrong? The Clash between Islam and Modernity in the Middle East (2003)
, an attempt to document the troubled past of the Middle East that led to current tensions. His work brings the reader through hundreds of years, showing how world events played out in the deteriorating imbalance between Islam and the West. Most importantly, he addresses the critical historical events and political changes that have led to both a desire for retaliation and hatred for the Western world in many Muslims. Resulting from this ideology, he shows how the Middle East turned its attention to understanding European weapons and military tactics, commerce and industry, government and diplomacy, and education and culture. What emerges from his book is a portrait of a culture in turmoil.
Bernard Lewis received his B.A. and Ph.D. from the University of London, and served there as Professor of History of the Near and Middle East at the School of Oriental and African Studies from 1949 until 1974. His publications include
The Crisis of Islam: Holy War and Unholy Terror
(2003);
The Shaping of the Modern Middle East
(1994);
The Muslim Discovery of Europe
(1994); and
The Political Language of Islam
(1991);
Race and Slavery in the Middle East
(1992);
Islam and the West
(1994).
Photo credit:
Dan Porges
http://www.porges.net/dan.porges.html
.
The Jazz Image: Masters of Jazz Photography 1935-1965
THE PHOTOGRAPHY OF LEE TANNER
MONDAY, NOVEMBER 20, 2006
RECEPTION 3:00 - 4:30 p.m.
Celebrated for a quarter century as one of the foremost video/still photographers of modern jazz, Lee Tanner has given generously of his time, talent, and energy in enhancing public awareness of the jazz art. While a photograph ordinarily captures light from a fraction-of-a-second slice of time, a master craftsman like Tanner can cause those tiny rays to conserve memories of legendary performances and revive warm, vivid thoughts of musicians and sounds from the past. Of Tanner's contribution to the art, Nat Hentoff wrote, "Recordings are not enough to provide a full understanding of a jazz musician's work. There is an added physical and emotional impact in seeing the musician play. The music is so personal that with the best players, their instruments have become extensions of themselves."
Tanner's work has been displayed in galleries, magazines, and jazz clubs in all parts of the U.S. and abroad, including The Jazz Gallery (New York City), Vision Gallery, Kimball's East, The Jazz Image, and Yoshi's jazz club (San Francisco). He recently donated a vast print collection to the American Jazz Institute.
Tanner's fourth art book, The Jazz Image: Masters of Jazz Photography 1935-1965 (Abrams, fall 2006), a compilation of works drawn from twelve leading jazz photographers, is a personal tribute to such artists as Bill Claxton, Ray Avery, William Gottlieb, Jan Persson, Milt Hinton, Herman Leonard, Herb Snitzer, and Chuck Stewart. As Tanner observed, "We (were) photographing the moment. That's what the essence of jazz is – the moment."
The American Jazz Institute and the Gould Center for Humanistic Studies are proud to have assisted Lee in bringing this magnificent book to fruition. We invite the Claremont community to join us in meeting Lee Tanner in the relaxing environment of the M.M.C. Athenaeum, celebrating and discussing the book's contents, viewing a display of photographic prints from the Tanner collection, and perhaps, obtaining an autographed copy of his new book. Refreshments will be served.

The Athenaeum signing party will be followed, later in the evening, by a live jazz performance by the Bobby Bradford Mo'tet. All are invited. Of course, only those who attend will experience this unique exposure to Lee Tanner, his art, and the "iconic, candid, explosive, and intimate" sights and sounds of jazz.