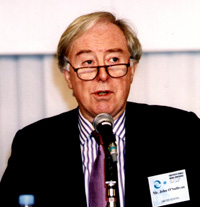 Dispelling the Nightmare: Thatcher, Reagan, John Paul II and the End of Communism
JOHN O'SULLIVAN
MONDAY, NOVEMBER 20, 2006
LUNCH 11:45 a.m., LECTURE 12:15 p.m.
John O'Sullivan, in a lecture sponsored by the Salvatori Center at CMC, will discuss how the President, the Pope, and the Prime Minister jointly contributed to the defeat of communism. Eschewing 'balance of power' strategies, these leaders cast the conflict with Soviet Communism in moral terms, restoring optimism and hope in their people while reminding the West of the ideals for which they fought. Mr. Sullivan argues that they were beacons of optimism cutting through the malaise and despair that afflicted 1970s America, strike-ridden and economically moribund post-imperial Britain, and a Catholic Church rocked by social and sexual revolutions. According to Sullivan, as we face a new and perhaps even deadlier enemy than Soviet Communism, we need to revisit the powerful lessons taught by these three great leaders who revived the faith, prosperity, and freedom of the West.

John O'Sullivan covered the Reagan presidency as a Washington columnist, was a special adviser to Prime Minister Margaret Thatcher, and has written regularly on Pope John Paul II and the Catholic Church's influence on international relations. A veteran journalist in Britain and the United States, he has been the editor in chief of National Review, The National Interest, Policy Review, and United Press International; editorial page editor of the New York Post; op-ed and editorial page editor for the London Times; and an editor with the London Daily Telegraph. He is currently editor at large for National Review, a weekly columnist for the Chicago Sun-Times, and a senior fellow with the Hudson Institute.