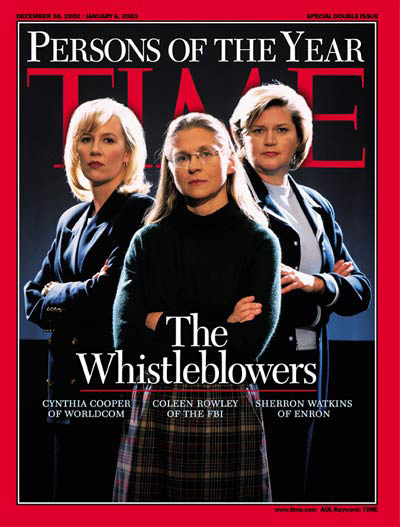 WorldCom Warnings: What Went Wrong and Corporate Governance Lessons Learned
CYNTHIA COOPER
THURSDAY, NOVEMBER 9, 2006
Cynthia Cooper's life ambition was not to destroy a corporate giant. In fact, she was a loyal and dedicated employee of WorldCom, Inc. as vice president of internal auditing. But she was and is the sort of person to whom ethics are important. And she knew that what was going on at WorldCom in 2002 was not right. Her report to WorldCom's board of directors in June 2002 detailing WorldCom's fraudulent accounting practices uncovered the largest accounting fraud in history to date ($11 billion), and brought down what was then the 25th largest company in America.
As a result, Ms. Cooper was named one of Time magazine's 2002 Persons of the Year, along with Sherron Watkins and Coleen Rowley. Time has been naming its Person of the Year since 1927, a designation given to the person or person(s) who most affected events during the year. Prior to Cooper, Watkins and Rowley, the designation had only been given to four women. Coleen Rowley spoke at the Athenaeum in 2004.

Cooper served as the Chief Audit Executive for MCI until July 2004. Prior to joining MCI, she worked in public accounting for PricewaterhouseCoopers and Deloitte & Touche. Cooper received her undergraduate degree in accounting from Mississippi State University and her Masters of Accountancy from the University of Alabama. When asked if she would do anything differently today, Ms. Cooper responds, "There was only one right path to take, and I would take it again."

Cynthia Cooper' s visit to CMC is jointly sponsored by the Kravis Leadership Institute, the accounting program at CMC, and the Athenaeum.