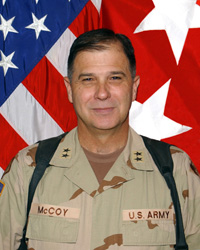 VETERANS' DAY OBSERVANCE
Building for Peace and Delivering
WILLIAM MCCOY, JR.
MONDAY, NOVEMBER 13, 2006
Who better to turn to for up-to-date, personal knowledge on the process of nation-building in Iraq than U.S. Army Major General William H. McCoy, Jr. MG McCoy has recently returned from Baghdad where he served as Commander, Gulf Region Division, US Army Corps of Engineers.
McCoy made it into the U.S. news this past August when he wrote a letter of protest following the publication of a Washington Post article critical of U.S. nation-building efforts in Iraq. MG McCoy questioned why the reporter (who had interviewed him at length in Iraq) chose to tell a bleak story over the more optimistic one. He wrote: "The reporter didn't tell you about the hundreds of dedicated military and civilian professionals he saw over here working to make Iraq better, or the Iraqis who come to work every day at their own peril because they believe in what we, and they, are accomplishing together...He never told folks back home about the thousands of children that are now in 800 new or rebuilt schools, or about oil production now being back to pre-war levels and getting better everyday, or raw sewage being taken out of the streets and put back in the pipes where it belongs, or about the thousands of miles of new roads, or post offices, police stations or courthouses..."

MG McCoy has a compelling, first-hand story to tell of nation-building in Iraq, from the perspective of a professional with thirty-two years of experience. MG McCoy is now the Commanding General, U.S. Army Maneuver Support Center and Fort Leonard Wood and Commandant, US Army Engineer School.