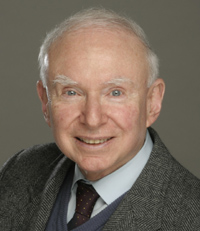 2006 Henry R. Kravis Prize in Leadership
Using Land Rights to Attack Global Poverty
ROY PROSTERMAN
WEDNESDAY, NOVEMBER 15, 2006
Described as a "worldwide champion of land rights for the world's poor," Roy L. Prosterman is the founder and Chairman Emeritus of the Rural Development Institute. Mr. Prosterman explains that "land is the chief source of livelihood for a majority of the world's poor. And when the legal system is used to provide the poor with assured access and long-term rights to even a small portion of land, it can make a huge difference to their household's income, security, and status."

In 2006, Roy Prosterman was awarded the inaugural Henry R. Kravis Prize in Leadership for his pioneering work in fighting for the rights of the rural poor to own land. The Kravis Prize, which carries a $250,000 award, honors extraordinary leadership in the non-profit sector. Mr. Kravis '67 explains that "our goal in creating The Kravis Prize was to acknowledge and honor the vision, boldness, creativity, and determination required of leaders in the not-for-profit world."

Roy Prosterman is a graduate of the University of Chicago and Harvard Law School, where he served on the Harvard Law Review board of editors. Mr. Prosterman joined the faculty of the University of Washington Law School in 1965 and was named the first John and Marguerite Walker Corbally Professor in Public Service in 1991. He has been director of the law school's post-doctoral program in Law of Sustainable International Development and has published multiple books.