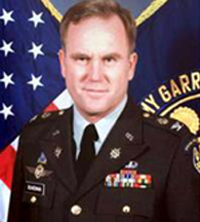 Improvised Explosive Devices in Iraq
MICHAEL BOARDMAN '74
FRIDAY, JANUARY 19, 2007
LUNCH 11:45 a.m. LECTURE 12:15 p.m.
As the United States enters its fourth year of military operations in Iraq, many insights and lessons learned have emerged in insurgent use of Improvised Explosive Devices (IEDs) and ways to counter these weapons. Colonel Michael Boardman (CMC '74), Director of the Army's Intelligence Electronic Warfare (IEW) Test Directorate, Fort Huachuca, AZ has served in a variety of key military intelligence command and staff assignments since he earned his degree in International Relations from CMC and was commissioned a Second Lieutenant in Military Intelligence via the CMC Army ROTC program in 1974. In 2002, Colonel Boardman served as the Director of Intelligence (J2) of Combined Joint Task Force 180 in Bagram, Afghanistan, the senior intelligence officer in theater focused on understanding, analyzing and finding Taliban and Al-Qaeda forces in Afghanistan and other locations throughout the world. In his current assignment, Colonel Boardman directs all final phase testing on emerging IEW systems that will be fielded to our Soldiers in the coming months and used in the GWOT. Colonel Boardman, while on active duty, also earned a Doctor of Jurisprudence from Willamette University, Salem, Oregon (1977) and a Master of Arts in International Security Studies at the Navy War College (1997).

Colonel Boardman's visit to CMC is sponsored by the CMC Army ROTC program. CMC hosts one of the oldest Army ROTC programs in the country with lineage that dates back to 1916 when it began as the Pomona College Army ROTC program.