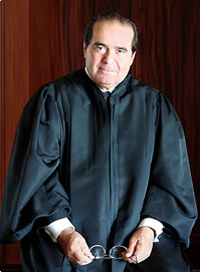 2007 Pacesetters Fellow
A Matter of Constitutional Intrepretation
ANTONIN SCALIA
WEDNESDAY, JANUARY 31, 2007
The Honorable Antonin Scalia, Associate Justice of the United States Supreme Court, graduated summa cum laude from Georgetown University where he was class valedictorian. He graduated magna cum laude from Harvard Law School where he served as note editor for the Harvard Law Review. In 1960, he was the Sheldon Fellow at Harvard University, allowing him to spend a year traveling in Europe.

Justice Scalia began his legal career with a nationally-prominent law firm in Cleveland where he practiced corporate finance, labor, and antitrust law. In 1967, he became a professor of law at the University of Virginia Law School. During the 1970s, Presidents Nixon and Ford appointed him to a number of administrative posts, including that of assistant attorney general in charge of the Justice Department's Office of Legal Counsel. He subsequently joined the faculty at the University of Chicago School of Law.

In 1982, President Reagan appointed Antonin Scalia to the United States Court of Appeals for the District of Columbia Circuit, where he honed his reputation for meticulous jurisprudence. In June 1986, President Reagan nominated him as an Associate Justice of the Supreme Court to fill the vacancy created by William Rehnquist's elevation to Chief Justice. On September 26, 1986, he took the oath of office.

Justice Scalia was born in Trenton, New Jersey. He married Maureen McCarthy in 1960.