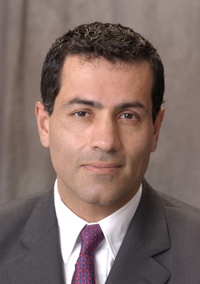 The Shia Revival: Politics in the Muslim World
VALI NASR
TUESDAY, FEBRUARY 6, 2007
Across the Muslim world - from Morocco in the west to Malaysia in the east to Muslim minority communities from London, Berlin and Marseille to Durban, Delhi or Sydney - Muslims are grappling with the challenges of integration, economic change, and political reform. As nations around the world struggle with the threat of militant Islam, Vali Nasr, one of the leading scholars on the Middle East, provides us with a rare opportunity of understanding the political and theological antagonisms within Islam itself. His most recent book, The Shia Revival: How Conflicts within Islam Will Shape the Future (Norton Press, 2006) is a penetrating historical account of sectarian conflicts in the Muslim world, and how the future rests in finding a peaceful solution to the ancient rivalries between the Shias and the Sunnia.

Vali Nasr is professor of Middle East and South Asia politics at the Naval Postgraduate School and an adjunct senior fellow at the Council on Foreign Relations. He is the author of The Islamic Leviathan: Islam and the Making of State Power (Oxford University Press, 2001); Mawdudi and the Making of Islamic Revivalism (Oxford University Press, 1996); The Vanguard of the Islamic Revolution: The Jama`at-i Islami of Pakistan (University of California Press, 1994).
Dr. Nasr has briefed the White House, the U.S. Department of State, the National Security Council, and the U.S. Department of Defense on Middle East issues. He has written for The New York Times, Washington Post, Christian Science Monitor, New Republic, and Wall Street Journal. He has provided expert commentary to CNN, BBC, National Public Radio, Public Radio International, The NewsHour with Jim Lehrer, CBS's Evening News, 60 Minutes, NOW with Bill Moyers, and NBC's Nightly News. He has appeared as a guest on The Charlie Rose Show and The Daily Show with Jon Stewart.

Vali Nasr's visit to CMC is jointly sponsored by Keck Center for International and Strategic Studies and the Athenaeum.